female cyclists doing amazing things – Monika sattler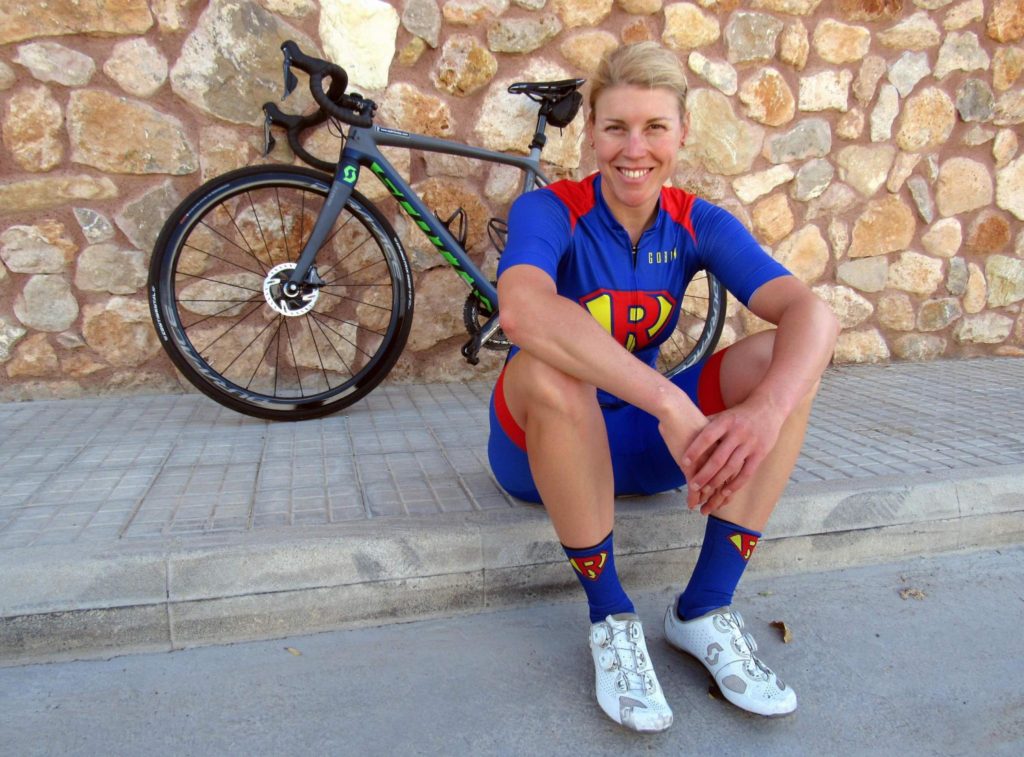 I always enjoy reading about female cyclists doing amazing things, so the story of Monika Sattler who rode the entire three week Vuelta a España last year, just ahead of the pro peloton, caught my eye this week. That led me to find out more about this extraordinary woman who has a really interesting story so instead of rewriting it I'm sharing her story direct from her own website. Over to Monika……
The seemingly perfect career path
Originally from Germany, after high school I moved to the US to play Volleyball for a university team. I graduated with a summa cum laude in 3.5 years from Bryant University and was accepted with a full scholarship to the School of Foreign Service at Georgetown University.
After my graduation, I worked for the International Monetary Fund and the World Bank and I still would be climbing that career ladder if there was not that inner urge that there is more in me than settling for a job I was not completely passionate about.
As Mark Twain says: "Find a job you enjoy doing, and you will never have to work a day in your life."
I quit that career-aspiring job with the World Bank. I had to stand against the strong opinion of my family and friends who had a different idea of my pursuit for happiness.
But I wanted to pursue my dream to become a professional cyclist while going for another Master's degree at the University of Minnesota. I lasted one cold and loooooong winter before I went to my professor and told him I would quit the program if he didn't transfer me to another place. I finished my Master's in Australia.
But during this time, I realized that professional cycling is not what I wanted and I had trouble to find a suitable career in sports. I felt like a failure that I was not able to pursue my passion and doubted Mark Twain's statement. Maybe it is just not possible to find that job that fulfills me.
To get back on the "right track", I applied to any job everywhere and got accepted to a prestigious consulting firm as IT management consultant. I worked first in Switzerland and then Australia.
But while I was now financially secure and on the path I was supposed to be on, this very same urge as two years earlier emerged in me wanting more in life.
From one moment to the next, I was sitting in Australia with no job, no ties and no preset future. What would I do with it? Have I completely failed or is this the beginning of a new life?
Finding the purpose in life
I studied the world map looking for that place I would love to live. I packed my bike and flew with a one-way ticket to Malaga, Spain. Only a one-night hotel stay and a six-week car rental was as far as I had planned. I had never been there, didn't know anyone and didn't speak a word of Spanish.
I knew that this time would define me. I had to find out why I am here on this earth. I had to look for the purpose of my life.
While trying to find my purpose of life, I was also telling my story to people and realized that I was creating impact and changing lives. People felt encouraged that it IS possible to truly create your own path and that you don't have to follow the traditional path.
That was my calling. My mission has become to enable people to really do what they love doing by building self-confidence, overcoming fears and creating THEIR paths. With my experience having vigorously lived through the lowest and highest moments, have made all possible mistakes but also learned how to create success, I have been able to relate, connect and coach my clients to create their best path in life.
To walk my talk I set a world record
To showcase what it means to go for goals that seem outside the norm and impossible, I decided to set a world record cycling as the first female in history one of the toughest cycling challenges in the world.
80% of the people thought it was not possible.
As the first female in history, I cycled every kilometre of one of the toughest professional races in world, the Vuelta a España, just hours beforehand.
Altogether it was 3058km, 129 hours of riding, 49337m of elevation gain in 21 stages. That is a daily average of 145km, 6 hours of riding and 2349m of climbing.
I loved every single minute of it. The early mornings at 4:30am waking up, the sunrise at 7:40am, the conversations with new friends, crossing the finish line at 14:00, driving to the next hotel, enjoying the local cuisine and breathing every moment of a rich, intense experience.
I made it. My main mission of this project was to inspire people to go for their own challenge and come out to join for parts of this journey while spreading my message around the globe. With over 200 people riding parts with me and with a coverage of over 50 media outlets around the world, this project has exceeded any expectations.
While creating my own path, three key principles have emerged that have enabled me to reach my athletic, work and life goals: Being real, adventurous and daring.
By coaching others to achieve their goals by building self-confidence, overcoming fear and creating their own path, I have found that what I have always been looking for: finding that job I enjoy so much that I never have to work a day in my life.
Share your stories about female cyclists doing amazing things via comments or the Women Who Cycle Facebook page.