how to return to riding your road bike after buying an e-bike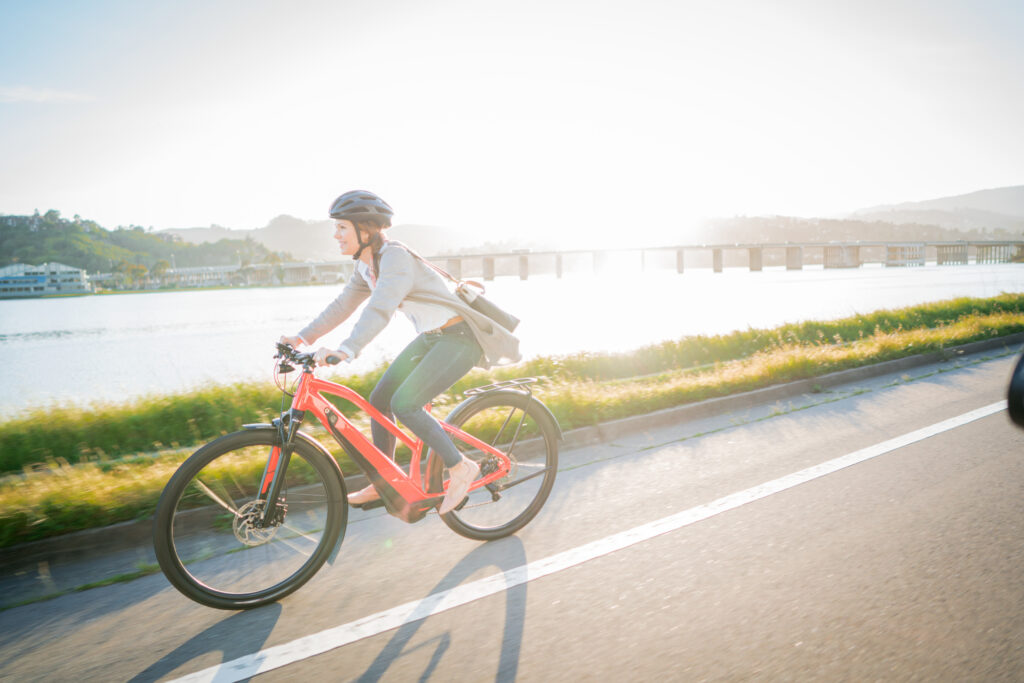 A friend of mine suggested that I write a blog post about how to return to riding your road bike after buying an e-bike. She recently bought herself an e-bike to commute to and from work, and due to a holiday and other life obstacles had a break from riding her road bike. She found it difficult to return to the human-powered riding mainly because of the physical exertion that was required. She actually answered her own question while we were discussing this quandary, but I thought it was worth exploring the topic.
For her, the answer was to think about the two types of riding as being completely different. The e-bike for her is a form of transport to ride to and from work and other short trips. She still owns a car and will use it on other appropriate occasions but the e-bike is great to get through the inner suburban traffic, and super easy to park at the other end. Her road bike is for leisure and fitness riding and is a very different experience.
So with that sorted, it's worth learning a little bit about e-bikes because there are a few myths to bust here.
The use of e-bikes is on the rise. According to Bicycle Industries Australia, the number of electric bikes imported to Australia has tripled over the past three years and sales are growing faster than any other segment of the Australian bike market, with more than 50 brands offering a range of models.
There are two classes of e-bikes that are permitted on Australian public roads and designated public areas. The first group is the 250-watt pedelec bikes, which are restricted so that powered assistance cuts out from 25 km/h. The second is the category of 200-watt electric bikes, which are not speed restricted, and may be fitted with a throttle, meaning no pedalling is required. There are bikes that have both a throttle and pedal assist. You should check on the laws in your own location before purchasing an e-bike.
Here are a few reasons why you should consider an e-bike:
Go further, faster and longer
You still get the benefits of riding a bike with an extra bit of oomph so you can ride further, faster and longer. At 25 km per hour you won't keep up with free-flowing traffic but during peak times most car drivers won't get there any faster than you will.
Save money
For many riders, an e-bike can replace a second family car which is a huge cost saving for registration, fuel, repairs, and insurance. It can also be cheaper than catching public transport depending on your journey.
Help keep you fit
Even though you have the electric assistance, it's still a more active form of transport than driving or catching public transport. It's not a fitness activity but it is incremental exercise.
Great for riding hills
An e-bike is a great way to ride up hills without the usual exertion. This means if you're commuting you don't arrive at work all sweaty and can ride in your work clothing rather than a dedicated cycling kit. This can also be of great benefit if you have a health condition that precludes you from too much exertion.
Great for windy locations
The same applies to very windy locations. I met a woman in The Netherlands who commuted to work on an e-bike and you might think that's overkill in such a flat location but it helped her on those windy days to arrive at work refreshed rather than sweaty.
Fun to ride
If you've never ridden an e-bike then you should try one out. I've been lucky enough to try out different Specialized e-bikes including e-mountain bikes and urban style bikes at test events and they are great fun. I also tested a Bianchi e-road bike recently for a magazine review and it was fun to ride as well.
I've often heard e-bikes described as cheating but I challenge people to think about them differently. They are simply a new and exciting category of bike that enable more people to ride more often. That has to be a good thing.
Share your experiences of how to return to riding your road bike after buying an e-bike via comments for the Women Who Cycle Facebook page.