Chasing her dreams on the bike, meet Dr Kimberley Wells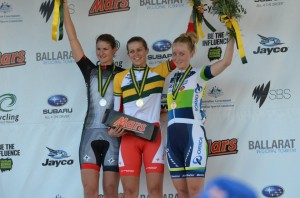 The first time I remembering hearing the name Kimberley Wells was when I was watching the Bay Crits on television earlier this year. She won against many of her highly fancied rivals. The second time was when I saw her live, racing in the Women's Cup at Unley in Adelaide during the Tour Down Under where she also won. So I wasn't at all surprised when Kimberley made contact with me from her new base in the US. Here's the story in her own words.
Why did you start cycling?
I am 27 years old now and fell into cycling throughout University in Far North Queensland. I came back from a year in the UK/Europe working and travelling and bought a road bike a week before I started Uni, aged 18 years. Initially I used it to get around town, but over a few years became more involved in bunch riding, the Townsville Cycling Club then some local racing, progressing to having a coach. I knew I wanted to go further with the cycling, but there were significant challenges doing this as a medical student in the far reaches of North Queensland without a road map to success. After graduating University in 2009 and following my boyfriend to Canberra I started ramping up the riding/racing, working towards becoming a full-time athlete in 2012.
I know you were part of the Specialized SA team? How did you end up in that team and did you enjoy it?
At the start of 2012 I was fortunate enough to get picked up by the Specialized Women SA bike team (now Specialized Securitor). Elizabeth Phillipou was integral in accepting me onto the team after I did some guest riding for Specialized Total Rush at the Bay Criterium Series. Throughout the course of 2012 we raced the National Road Series (NRS) which has great TV coverage of the men AND WOMEN by SBS. I could relate easily to the women in the team and whilst we had some tough racing, we always strove to better ourselves and work together. Lots of laughs along the way. Our biggest strength was sacrifice and determination for the success of the team.
How did you get selected for the US team? Are you being paid to ride for them?
Racing many criteriums over Summer with the Specialized Securitor team showed that I was in good form. I also had amazing support from the ladies in the team and my super coach, Olympic Gold Medalist, Sara Carrigan. I was getting podiums for Specialized Securitor in most races, which culminated in a New Years Day win at the first of the Bay Criterium races in Geelong. An underdog win over the numerically dominating force of Orica-Greenedge was very satisfying for our team. Shortly afterwards, I won my first Australian National Title in the Criterium in Ballarat. Within 24 hours of that win, I was contacted by teams in Europe and the US via email and twitter! The Directeur Sportif for Fearless Femme, Gary Ryan, made the initial contact with me. It's a small world as he is also from Canberra and knows many of the same people! I chose to race in the US for the new team, Fearless Femme. Currently I do not get paid to race in the team, but with the right ethos, success and attraction of sponsors, we hope to change that come 2014.
Can you tell me a little about the team?
Fearless Femme is a small but powerful and passionate "crit-hit-squad" based on East Coast USA. We are newly formed and were on the podium in our debut race, Presbyterian Invitational Criterium. We have three main riders with additional rotating guest riders. The three full-time riders are Therese Cliff-Ryan (current and two time USA criterium champion), Kelly Fisher-Goodwin (formerly Benjamin) and myself. Two current national champions in one team is very exciting. We are certainly about the firepower! We have a strong respect for racing as a team but also want to enjoy the experience. Additionally, outside of the cycling arena, we all strive for further career ambitions. Our race schedule is targeting NCC (National Criterium Calendar) events which gets great exposure for the women's racing and for our sponsors. We are in race season now, lining up for "Speed Week" to start this weekend in Georgia/South Carolina and will continue racing over the Summer until September.
We have a team website on the way: fearlessfemmeracing.com
Facebook: Fearless Femme
Twitter: fearlessPEC_V13
How are you enjoying the US? Is it your first visit?
I am loving being Stateside as I've never ventured to the US previously. Everyone is very generous and willing to help out when needed. It is less of a culture shock than heading to Europe – at least we're all speaking the same language! My base is with a couple in their house on the banks of the Delaware River – amazing. And our sponsored bike shop, Pure Energy Cycling and team manager, Arounkone Sananikone, are only 2 miles away over the river. When we travel to various NCC races I get the opportunity to see America. How great is that!?
Who are your cycling heroes?
I'll admit that I've been a long-time Lance fan both on and off the bike, which is now a confusing and complicated topic. But from the early days before I even owned a roadie, I succumbed to the cycling world through the commentary of Phil Liggett and Mike Tomalaris on SBS. I enjoyed their accounts of the Tour de France each year; the teams, the tactics, the pain and the elation of it struck a cord. Stuey O'Grady and Robbie McEwen were some of my Aussie favourites with Marco Pantani rating a mention and Eric Zabel too. It was harder to follow the Women's success as in those days there was barely even any of the men's racing on TV. The success of Sara Carrigan to claim Gold at in the road race in Athens is an inspiration to all Aussies, especially the female cyclists. In the current day, it is hard to go past the feats of Marianne Vos dominating all sectors of the cycling world.
What are your goals?
This is my first season racing abroad, which has its challenges. I am newly married and my husband is back home in Canberra doing the hard yards at work without me. I want to keep the momentum going forward with my racing career. It is a step up racing in the US, which I hope will prepare me to make the leap into a European team. Ultimately I would like to competitively race for the Australian Road team. And we'll see where that takes me.
Do you like to be called Kimberley or Kim?
Kimberley suits me just fine. For reasons unknown, I thoroughly dislike being called "Kim". Most of my mates call me "Kimbers."
Do you have plans for a career beyond cycling?
When I'm not cycling, I am working as a Doctor in many hospitals throughout ACT and NSW. I studied Medicine at James Cook University in the tropics and then began working for the past few years in Canberra. I have yet to specialise in the medical world, but when I'm in Australia I do my best to get locum work to keep my skills and knowledge at the forefront. In my medicine "off season" whilst I am overseas, I chip away at a Masters of Public Health and Tropical Medicine via correspondence.