Top eight tips for cycling in hot summer weather
Pretty much every year I write my tips for cycling in hot summer weather because I live in the beautiful city of Sydney. For those of you who live in the northern hemisphere, you can bookmark this post for your summer but if you live down under, read on.
Here are Women Who Cycle's tips for cycling in hot summer weather:
Ride early and late
I do most of my riding early in the morning. There are a number of reasons for riding early but one of them is definitely sun exposure and heat. You'll also avoid traffic if you ride early in the day. But if you can't ride early in the morning then try a twilight ride to avoid sun and heat exposure.
And make sensible decisions if it's super hot. A month ago I woke up on Sunday at 6 am to find that it was already 31 degrees Celsius with a horrible hot wind blowing. My friends and I exchanged a few text messages and decided to stay home in front of our respective air-conditioners because it would have been most unpleasant and even dangerous to ride.
Wear sunscreen
I only worry about sunscreen if I'm going to be riding after about 10 am. If I'm going to be off the road by 10ish then I don't apply sunscreen. If I know I'm going to be out after this time then I apply 30 plus sports sunscreen before I even put my jersey on. I find it much easier to apply if you don't have to worry about slopping sunscreen on your expensive cycling kit. If I'm going to be riding all day then I reapply it at least one more time. And don't forget your face, particularly your nose and of course your ears which are not covered by your helmet. If you have short hair or wear it up like me you also need to make sure you slather the back of your neck.
Stay hydrated
When the temperature is higher, you will need to consume more water to stay hydrated, so carry an extra water bottle, or plan a few stops along your ride route to refill your bottle. Service stations usually have a tap you can use, or even public parks but check that the water is drinking water before filling up.
Be proud of your tan lines
If you do a significant number of kilometres on your road bike during summer then you will get tan lines on your legs and arms and I wear mine with pride. Even if you diligently apply sunscreen you'll still have shorts lines on your thighs and white shoulders and hands.
Choose your jersey and knicks wisely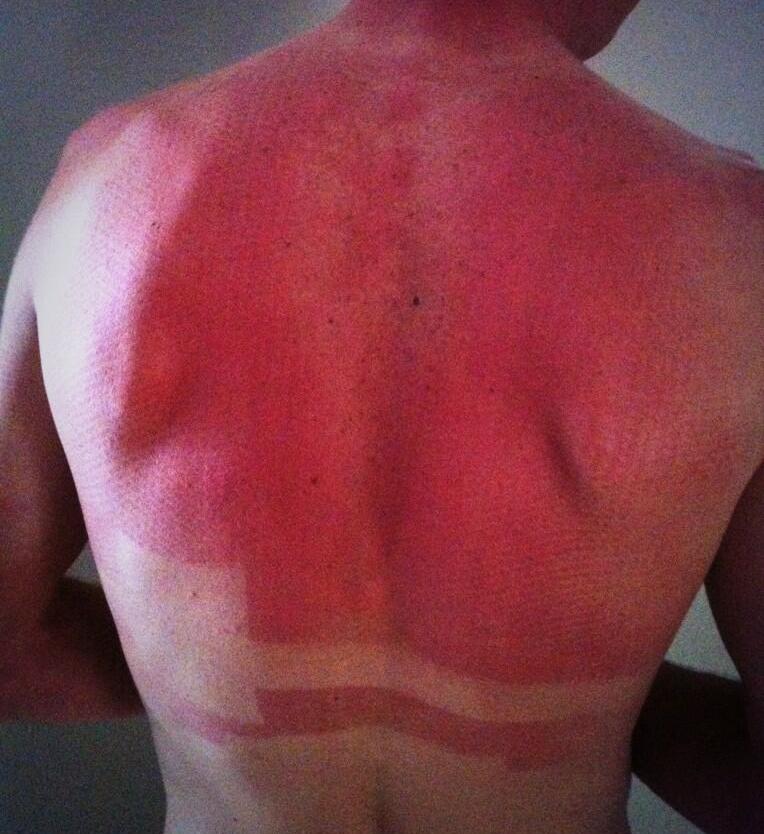 You can buy jerseys that actually have an SPF rating so keep a lookout when you're shopping. I've never been sunburnt through a jersey but I'm sure it's possible. I remember seeing some photographs of several Sky Team pro cyclists a few years ago who had been badly burnt through their jerseys. This is Chris Froome after his day on the bike!!
If you're particularly susceptible to sunburn you can also buy sun protectors for your arms which are like arm warmers but are made of lighter fabrics and are usually white. I've also seen lightweight long sleeve summer jerseys that are designed to protect you from the sun while keeping you cool.
Good quality cycling clothing is designed to draw sweat away from your body which also helps keep you cool. The same goes for quality undershirts which rather counter-intuitively help keep you cool.
Wear good quality sunglasses
There are plenty of cycling-specific sunglasses on the market so make sure you get a good quality pair. They not only protect your eyes from the sun, but also from drying out your eyes, and from insects and other airborne debris. I wear photochromatic glasses that go lighter and darker depending on the amount of light.
Take it easy
In really hot weather knock back your effort a little and ride a little slower, and perhaps choose a ride route with fewer hills so you avoid really heating up.
And if taking a coastal ride route is an option for you, choose it over a hilly inland route on a very hot day.
Bushfire smoke hazard
The impact of bushfire smoke on an individual can vary significantly based on their current health and previous medical conditions as well as the current air pollution levels, so it is not a one size fits all approach. It's up to an individual rider to decide if it's okay to ride or not, based on their own health and fitness level.
A good way to help make a decision about riding during times of questionable air quality is to check the World Air Quality Index (AQI). Each state and territory has live online updates on current local AQI levels. Plus, there is a phone app called Air Matters that makes it very convenient to check the local AQI data.
Share your tips for cycling in hot summer weather via comments or the Women Who Cycle Facebook page.