Cycling is the new golf in more ways than one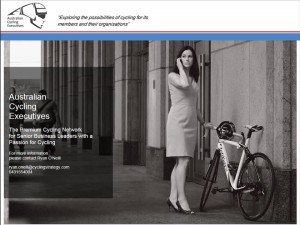 You've probably heard this catchcry before – Cycling is the new golf. Previously I'd thought of it in terms of middle-aged men who previously played golf every Sunday morning hanging up their clubs and taking up Sunday morning group rides. One of the big advantages of this is that cycling is generally less time consuming than golf so the husband/father can spend more time with their family.
A couple of weeks go I met a guy who's taken this concept one step further and added a business dimension. He believes cycling is the new golf because the group he's founded – Australian Cycling Executives or ACE has assembled an enviable group of business executives who'd rather do their business networking while riding their bikes than dragging a bag of clubs around 18 holes.
His name is Ryan O'Neill and he's a former professional sportsman who like so many of us has caught the cycling bug and has also found a way to make it into a business venture.
But like all the topics I write about on this blog I always search for the female angle and that appeared in the form of three female business executives who have joined Ryan's list of 500 senior executives. They are a very small minority which is something Ryan would like to see change. He's genuinely keen to ensure it isn't a boys club.
Cat Haines is part of the customer advisor team at Ernst & Young and confessed that she spends far too much time on her bike. But her love of riding has given her access to people she might not otherwise get to speak with. She took her bike when she attended a company conference and found herself out riding with partners of the business, something she wouldn't do in her day-to-day role. She said it's also a great leveller with her male colleagues who respect her because she can ride alongside them. It also means she gets to know her clients on a different level because she commutes to client sites on her bike.
This is a concept that Ryan wants to exploit by bringing together people who are passionate about cycling but also want to talk business (at least some of the time).
Rebecca Snell is a Marketing Communications Associate Director at Macquarie and she signed up to be part of ACE because it combines her passion for cycling and business. In a vast organisation like Macquarie involvement in a group like ACE can give her insights into other parts of the business that she would never know about if it weren't for her love of her bike. Like so many women cyclists I speak to she's passionate about cycling and feels that it's pretty gender irrelevant riding mostly with men in her local area.
ACE is focusing on connecting business people rather than traditional networking and is in the very early stages of development. Ryan's so confident that it can work as a business idea that he's given up his day job and is working full-time on finding partners and sponsors to be part of it. He has a board of advisors which reads like a business who's who of Sydney business people.
Eva Caprile fills a demanding corporate role as Commercial Manager at Nespresso. She typically works a 12 hour day and loves nothing more than getting out on her bike to escape the office. She'd love to see more organisations like her own supporting cycling. She certainly sees more and more fellow executives taking up cycling through the Sydney Uni Velo Club of which she's a founding member.
ACE has already held three riding events to encourage the members to interact but there are more planned in the near future. ACE is also in the process of putting the finishing touches on its website which at the moment consists of a holding page shown here. In the interim you can read about ACE on LinkedIn.