SKCC women – poster girls for women's participation in club cycling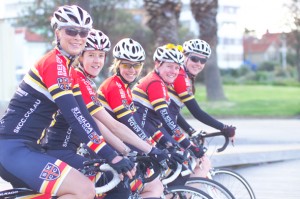 Since I started writing this blog last year I've had no less than four women that I've interviewed or spoken with who have mentioned St Kilda Cycling Club (SKCC) as the club to join in Melbourne if you're a women. So I thought I should find out a little more for myself by speaking to one of the key people behind SKCC women's program, Gaelene Snelling.
When I spoke to Gaelene a couple of weeks ago she proudly reported that of the current 600 SKCC members, 165 of these are women who are signed up on a mixture of racing and recreational licences. That's an impressive 27.5 per cent of the total membership which I'm sure is a great deal more than most cycling clubs in Australia.
So I asked Gaelene what her club's secret was, and it was no surprise that she said there wasn't really a secret. She, along with many others has worked hard to encourage women to join the club by building activities gradually.
Gaelene describes it as four fundamental things. The first is to have a mission statement that guides the whole thing. It reads  – "To encourage, support and provide opportunities for women of all ages & abilities to reach their cycling goals".
She also mentioned three other keys to their success:
 Developing a strong culture of encouragement and supportiveness within the membership
Women know what women want!
Having a degree of financial independence (they did some separate fundraising to ensure this).
The first step the club took was to introduce a women's ride back in 2005 and it was for this reason that Gaelene actually joined the club. Fast forward to 2008 and they formed a women's sub-committee and though the committee they planned constant initiatives to encourage women including women's only grades in racing, additional women-only rides, a sponsored women's race team and a women's development program.
The thing that most appeals to me is that they set out to encourage women of all ages and abilities and from what I've learnt they have certainly succeeded. They have elite women racers right down to weekend recreational riders and every thing in between. To me that really sums up what women's involvement in cycling should be.
Gaelene is also big on communication and has a weekly e-newsletter updating members about women's activities in the club plus she personally calls all new female members to welcome them.
Last year they entered and won a National Bicycling Achievement Award (Organisation) for the club's commitment to increasing women's participation in cycling.
I would certainly be lining up to join SKCC if I lived in Melbourne. But instead of relocating I'm keen to work with other members of my own club LACC to encourage more women to take up cycling and join the club. Stay tuned on that one.