Female cyclists – Don't let MAMILs intimidate you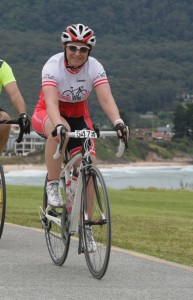 I must confess that this week I'm struggling a bit to write a blog post. I have a great list of potential topics I wrote last week (thanks to an online course I'm currently undertaking) but I've just read through it and nothing inspires me. So you'll have to excuse this week's rather short and not overly focused offering.
One thing I've noticed about the many women I speak to about cycling in the bike shop where I work is that many of them feel a bit intimidated by other (particular male) cyclists. They often say 'oh, I'm not a professional rider' and I interpret this to mean they are not anything like a MAMIL (Middle Aged Man In Lycra). And it frustrates me that they think that those blokes are all 'professionals'. Some of them are professionals in their working life – doctors, lawyers, accountants, dentists but they are just regular blokes when they are out riding. They just have enough money and interest in riding to buy all that lovely gear.
So this post is a plea to all those women who think they can't ride a road bike because it is somehow the domain of those lycra-clad men. I don't let them intimidate me. I dress similarly to them and I use similar equipment, but I don't obsess over strava segments and I don't train with a power meter. I just enjoy riding my bike and so many more women could be benefiting from road cycling.
That is not to say that road cycling is the only valid form of riding, it just happens to be my passion. There are plenty of other ways to enjoy riding a bike but in my humble opinion road cycling is the pinnacle.
Road cycling does not belong to those bunches of 'fast' men you see. It belongs to everyone and any woman can get out and enjoy it. I challenge any woman who's been thinking about buying a bike for fitness or leisure to go to a local bike shop and test ride a road bike. I guarantee you'll love it. And if you live in Sydney come and see me at Ashfield Cycles and I'll talk you into it.