Following the Tour de France – a women's perspective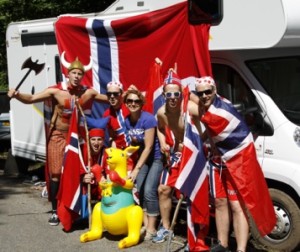 My partner and I have just finished our second trip to the world's most famous bike race, Le Tour de France and I thought I'd share a few insights with you. So rather than give you yet another commentary about the actual bike race I will describe what it's like to follow it.
You might wonder what interest a woman who writes a blog about women's cycling would have in watching a men's bike race and the answer is simple, I love all aspects of road biking which includes a keen interest in the men's pro peleton all year round. It would be great to see the same level of interest in the female pro riders as there is in the men's and hopefully that will change over time but for now I'll accept the situation and enjoy following the men and keeping up with the women via social media and occasional media reports.
For my partner and I, it's the perfect holiday (this is our second TdF) because we get to enjoy our mutual interest in cycling and see a great country like France at the same time.
I do however caution anyone who is planning to follow the TdF that you don't actually get to stop still in any one place for very long so if it's French Chateaux, wineries and beachside resorts that you seek then you should go on another holiday.
There are many ways you can see the TdF. Some go on organised tours that include bike riding, some follow in a car and stay in hotels, some in tents and many thousands in campervans (or camping cars as the French call them) which is what we did.
Many of the camping cars are owned privately and are the annual holiday of many French families and couples. Many of them are also rented from within France but also adjoining countries like Germany. In total we travelled 3,200 km in ours for 16 days.
We decided to start our TdF on day six rather than joining it from day one as we did on our previous trip. We also decided that we would go to every stage. Some people that we met along the way skipped stages and saw every second stage which meant they were waiting around for two days instead of one. For the very popular mountains like Col de Tourmalet people arrive up to a week in advance to get a great spot for their camping car or tent. I personally think it's just not worth all that wasted time.
So a typical day for us was to find a suitable parking spot for our camper (preferably at the side of the road on the course). As long as your wheels are not on the bitumen you can pretty much park wherever you like. Some people head for camping grounds but we only visiting one when we ran out of clean undies and needed to wash our clothes.
Once we found a good spot we'd set up for the night and have a very basic dinner. We arrived in our locations anywhere from 1 pm to midnight depending on how far we had to travel and the time we were able to leave our previous site. Our philosophy was to head for the second biggest climb of the day and usually towards the end of the stage which served us well.
To navigate our way around the vast country we used a GPS supplied by the camping car company, a large French book of maps and our TdF guide from home which contains a map of each stage. We got a little lost a couple of times but nothing too major. I navigated and Phillip drove and he got a little frustrated with my navigational skills or lack there of, a couple of times. We made a deliberate decision to hire a smaller van than we had two years ago so that it would be easy to maneouvre in small French villages. Some of the camping cars that we saw were enormous like small buses and would have been quite hard to drive up small mountainous roads.
We kept our food supplies fairly basic but really enjoyed exploring the French supermaches. Our camper had a small fridge and small gas stove but absolutely no bench space so we didn't try any gourmet cooking. A few times we were able to escape the van and buy a pizza en route or in a nearby town.
With our camper we also hired two folding bikes that we used to check out the local area once we'd found the perfect location. Many people bring their road bikes from home so they can ride some of the TdF course but we decided that it would be way too difficult to do this particularly because we arrived in Europe before the TdF and stayed after for a pre and post TdF holiday. The folding bikes were a good compromise for us.
Most of our parking spots beside the road were shared with others because there are thousands of people just like us following the TdF. The next morning when we were waiting for the TdF to pass by, we'd have plenty of people to chat with. Many of these were fellow Australians but there were also English, South Africans, Kiwis, Americans and plenty of Norwegians who we met along the way.
The actual bike race is proceeded by the Caravan Publicitaire (publicity caravan) which is a parade of 100+ vehicles promoting the variety of TdF sponsors. They throw out promotional items to the crowds beside the road. Unsurprisingly it's particularly popular with small children (and older French women) who fight for promotional items like hats, key rings, shirts, wrist bands, food, washing detergent and the ever popular shirts. I have to say that after about three days I was less than excited about seeing them pass by but other people who hadn't seen it before, found it thrilling.
A huge improvement for us over our last trip was having the iPad with Internet access. It meant that we could use the great SBS app called Tour Tracker which gave us regular race updates and we could also check what the riders were thinking pre and post race by following them on Twitter. If you're keen on cycling and want to keep up with race results, the latest news and the odd bit of gossip then you need to follow the pro cyclists on Twitter. I follow both men and women pro cyclists regularly but it's invaluable during a big event like the TdF.
So if the TdF is on your bucket list then I thoroughly recommend it as a great way to see France (albeit fleetingly) and meet lots of people along the way.
If you'd like to know more feel free to ask questions via the comments or my email address on the contact me page.