My Tour Down Under experience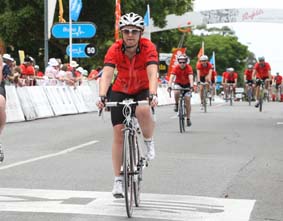 I've just returned home after a great holiday to watch the Tour Down Under (TDU) in South Australia and I thought I'd share some of my experiences with you.
The TDU has become a bit of an annual pilgrimage for Phillip and I because we were visiting for the fifth time in 2012. But like most cycling activities our interest and time spent has grown exponentially in the TDU. Our first in 2008 centred around Phillip's participation in his first charity ride – the JDRF Ride to Cure Diabetes. We probably watched a stage or two of the TDU but it was really just a sideline to our trip.
This year we fully embraced it and rode around the streets of Adelaide like so many other cyclists and soaked it all up. Our trip was divided into three parts – the JDRF ride which is the subject of the previous blog post, the TDU itself and then a couple of extra nights catching up with some friends.
For the duration of the TDU we stayed in an apartment in Adelaide's CBD with our good friends Stu & Shiona who are equally keen on all things cycling.
Our days consisted of an early morning ride to various locations around Adelaide including Glenelg beach and the coastline and Norton Summit (a nice long hill – great for training and the views), then a visit to the stage of the day by car (including some side visits to wineries, restaurants, etc.) and street fairs, other racing and more.
The TDU is a very well run event and we sampled different parts of the various stages. For Stage 1 we found a few roadside vantage points including that day's King of the Mountain. For Stage 2 we went to the charming Adelaide Hills town of Stirling and watched several laps and the feed station (quite entertaining if you've never seen it before). For Stage 3 we went to Adelaide suburb Unley to see the riders on the start line. For Stage 4 we witnessed the finish after we had ridden the stage ourselves by participating in the Bupa Challenge ride. For Stage 5 we headed south and watched the group whizz by at a number of roadside locations. And, for the final stage we watched from various spots around the course as they raced around the city.
All were good and it's fun to see it from various standpoints. One thing that is really great about cycle road racing is the accessibility to the riders. It's totally free just to turn up and stand literally right next to the super stars of the sport.
Participating in the Bupa Challenge ride on the Friday (Stage 4) really gave me an appreciation of what the pros go through every day. It was a pretty tough ride with quite a few hills and although I comfortably made it to the end there were several times when I would have happily taken anyone up on an offer of a lift to the finish line. Although as other cyclists will know there is nothing better than riding across the finish line.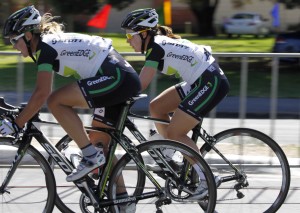 We also enjoyed some side activities along the way. We saw the pro women racing in the Women's Cup run by Cycling SA which was great. It would be terrific to see more women's racing alongside or at least as a warm up to the men's racing to help increase the profile of the women's sport.
And of course a trip to South Australia wouldn't be complete without a few winery visits. We had a superb lunch at D'Arenberg winery at McLaren Vale and also sampled their extensive wine tasting list. We also enjoyed 'our local' pub the Arab Steed on Hutt Street in Adelaide for a few meals.
The Tour Down Under is a fantastic event that I'd thoroughly recommend to anyone who is vaguely interested in cycling. The racing is exhilarating and the side benefits of food, wine, riding, socialising and more are terrific.