My JDRF ride – reaching the next level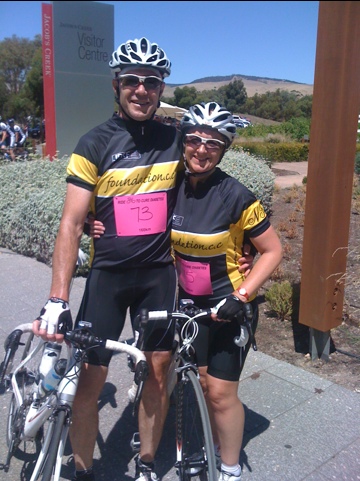 The Juvenile Diabetes Research Foundation (JDRF) annual Ride to Cure Diabetes is pretty special to me because it's the reason I started my love affair with cycling three and a half years ago.
This was my fourth time I had participated and while a lot of people think that raising $3,500 to do the ride is a huge challenge, for me riding the 160 km course was far harder.
In my previous three rides I'd only done the 80 km course which was hard for me the first time (only four months after I started riding) but it had become increasingly achievable.
So I spent the past few months training which really paid off and I'm very pleased to say I completed the ride successfully. For those who like a few stats it took 6 hours 33 minutes at an average speed of 25 km per hour. In fact it was 164 km.
The JDRF ride is an 80 km circuit around the beautiful Barossa Valley. The 160 km ride is a clockwise lap followed by an 80 km anti-clockwise lap. It's undulating for the most part but in some parts hilly. Harder than the 210 km Around the Bay in Melbourne which many other riders agreed with me.
In theory the weather forecast was ideal with mid twenties and sunshine predicted and it did deliver but they forgot to mention the wind. At the beginning of the ride it was blowing pretty hard but thankfully died down as the day wore on.
So I won't give you a blow by blow description but I will tell you that the total ascent was 1,570 metres with 1,500 m of descent. My maximum heart rate was 174 bpm and the average was 144 bpm. Not bad huh. These stats are thanks to my trusty Garmin 500 which also told me that I burnt 1,961 calories.
Just a few more stats to share. On the ride were 330 riders in total. A boutique ride compared to those mass rides. Out of those 95 were women, 25 of these rode the 160km, 38 rode 80km and 26 rode 35km with a few women signed up as supporting riders. JDRF raised just under $1 million for the event and $7.75 million over the past nine years for the event.
I really have to thank my wonderful partner Phillip for accompanying me on the ride. He rode every inch of the ride with me and encouraged me all the way. I doubt I would have made if without him. Thanks guardian angel.
For me this ride was about reaching a new level or perhaps reaffirming that I've reached a new level with my riding. Onwards and upwards from here.