Preparing for your first road cycling race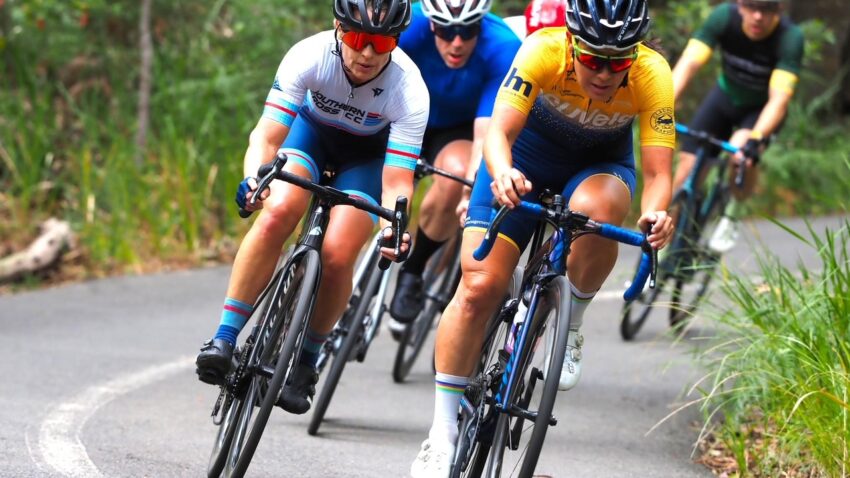 A while back I received a request for a blog post about preparing for your first road cycling race. As I'm not a road racer (although I have given it a go) I asked the lovely Dayna Davidson from Southern Cross Cycling Club (SXCC) to put together some tips to help first-time racers. Dayna's club SXCC from southern Sydney (or 'The Shire' as Sydneysiders call it) has a group of very active women racers so it seemed an obvious choice to ask her.
Over to you Dayna…
Competing in your first road cycling race can be both exciting and a bit daunting. I remember all the mixed feelings and emotions as I lined up for my first race. Here are some tips that might help you get ready:
Train consistently: whether you're working with a coach or doing it yourself it's all about building your strength and endurance. Gradually increase your kilometres and intensity leading up to the event, and make sure you incorporate some interval training and hill climbs.
Get a bike fit to ensure you're optimising power and reducing the chance of injury.
Make sure your bike is in good working order. Book in for a bike service at your local bike shop.
Invest in a good pair of cycling shoes, pedals, saddle, and cycling knicks. Make sure you've practiced clipping in and out of your pedals. Ride consistently to get used to sitting in your saddle for longer periods of time.
Invest in good chamois cream and use it for every ride.
Spend time on your bike to get comfortable handling the bike and using the gearing. Practice cornering, braking, ascending/descending a hill, and taking your bidon in/out to have a drink.
Practice group riding, which is an essential part of racing. Try to join a local cycling club and/or local group rides. Learn the dynamics of group cycling, including drafting, paceline, and communicating through hand signals with fellow riders. In group rides, you can also practice conserving energy and maintaining a steady pace.
Fuel your body correctly: eat a healthy balanced diet and stay hydrated during training sessions and on race day. Trial your race day nutrition during training sessions and practice eating whilst riding.
Ensure you get enough calories and hydration in to support your energy needs.
Look at the course map and visualise it. It's good to know if there are any climbs, sharp corners, and long descents. If possible, ride over parts or all of the course leading up. Talk to people who have raced the course previously.
Go into your event with a positive mindset and visualise yourself succeeding. Believe in the process of your training and your abilities and stay positive throughout the race.
For your first road race -consider a road race where Women's only grades are offered.
Pack everything the night before – Use a packing list: pack everything the night before.
Arrive at the race early: First, find the toilets, then give yourself plenty of time to sign on, pin your number on, warm up, and use the toilet one final time.
Listen carefully to the commissaires race briefing on the day. Clarify any instructions you are unsure of before the race starts. No question is silly!
Share your first race experience with a friend – Enter with a friend.
Lastly, it's your first race, so remember to have fun and enjoy the experience. Learn from it, don't stress about the finishing time or position, but be motivated and determined to sign up for your next event. You'll learn something from every race you do.
Celebrate "Finish Lines, not Finish Times".
Have you got any other tips to share about preparing for your first road cycling race? Share via comments or the Women Who Cycle Facebook page.