Tina's wonderful adventures on the Wheel Women Japanese Cycling tour – Part 2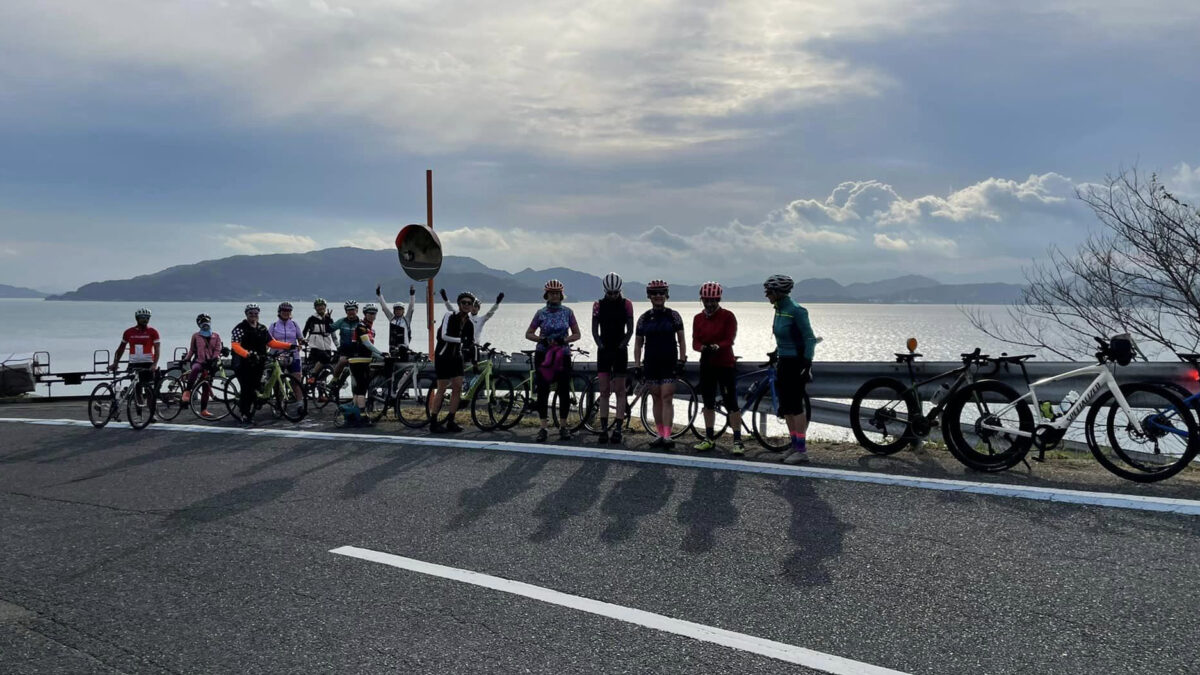 Last week I shared the first part of an article by my friend Tina McCarthy about her fabulous Wheel Women Japanese Cycling tour. This week I bring you Part 2. I was lucky enough to attend Tina's tour in 2018, and I was all set to go again in October 2020, and I'm sure you can guess why I didn't get to go then! But I loved it so much that I'm sure I will visit Onomichi and ride the Shimanami Kaido again someday.
Over to you Tina…..
As we head south along the Shimanami Kaido we take a side route to Tobishima Kaido, led by good friend Hori san, otherwise known as 'The Captain'…I've never really been sure why, but that's what I call him! Heading up the Hiroshima Cycling Association The Captain is always a keen participant in our rides and this year led us on an epic all-day adventure climbing hills, eating traditional Japanese sashimi lunch at a small inn and organising a fleet of local riders to join us on our fabulous adventure. Our concluding ferry ride saw satisfied faces, exhausted from their achievements and ready to sit in the sunshine as dusk closed in, talking quietly about their favourite moments with new Japanese friends.
A rest day was needed after our adventure with The Captain and our stop for the next 2 nights at Wakka was the perfect place to just chill. Wakka is the brainchild of Arashi Murakami, a descendent of the original Murakami Pirates of the Setouchi and an enthusiastic cyclist. To say he has thought of everything is an understatement. Cycle taxi van, cycle taxi car, cycle taxi boat…you name it he has it. His facility Wakka has everything for the cyclist from a bicycle repair station located at the entrance for any passing cyclists, showers and clothes washing facilities available even if you aren't staying at the facility as well as a swish café with excellent food and spectacular views to the Tatara Ohashi where the sunsets are picture postcard.
Staying two nights at Wakka was just what the doctor ordered for the weary team. We had use of the 3 cabins onsite as well as the glamping tents. The designer cabins have their own bathroom and toilet facilities while the glamping tents share bathroom facilities with the beautifully designed dorms for the more budget-conscious cyclists. Each cabin and tent is equipped with bike parking outdoors, or you can bring your bikes inside and hang it from the supplied bike hangers. Specialized Vado SL e-bikes are available for rental.
We opted for a group barbecue on our first night and the Wakka barbecue is like no other — it's not exactly what we'd expect in an Aussie barbie with a few snags and some beers in the esky. We were treated to local cuts of meat including wild boar if you so desired, vegies supplied by the local farmers and fish caught in the local waters. This was a culinary feast barbecue finished off with desserts made from local citrus…it was heaven! Coupled with local craft beers, as well as my favourite, a local sparkling Japanese wine!
Riding the Shimanami is always a culinary adventure…but you need to know where to look. Well, here's a top tip: the supermarkets especially in Setoda, 30km into the route, have some of the best bento boxes I've had in Japan! Fresh sashimi and sushi, tempura, okonomiyaki…you name it, they have it. And it's crazily cheap like most food in Japan…at around $8 — $10 for an 'I can't possibly eat anymore' meal, it's a cyclist's dream! There are all kinds of treats to be had with citrus and fish being the specialties of the area. And we can't forget, no Wheel Women Shimanami ride is complete without stopping at Dolce ice-cream parlour for a 'mikan' (tangerine) gelati.
As we passed through Setoda we stopped at local cycling business Via Shimanami Café. Keiichi and his wife Katsue have retired but indulged their passion for cycling. They have set up a great little café in the heart of Setoda for any cyclists to drop by: fresh lemonade, beer or wine, a good coffee or maybe some cool water with fresh mint and lemon. Coupled with a fabulous range of well-designed cycling gear that seemed to make the perfect souvenirs for our group…judging by the amount purchased (okay, so it is a women's group, and we LOVE to shop)! Later that night we enjoyed Keiichi and Katsue's company as they hosted us for dinner at a local tempura restaurant and we were treated to local conger eel tempura. Nothing like some tempura carb loading to face the day ahead!
As we traversed from island to island, each rider growing in confidence as the days passed, we conquered the hills at Shiratakiyama, home to the mystical 700 Buddha statues that silently greet you at the climb to the top, and we slowly paced ourselves up Mt Kirosan to witness the Shimanami and the Setouchi unfold below us into a spectacular vista of islands. All with the end goal to reach Imabari to join the event ride Cycling Shimanami 2022. Held every 2 years and jointly organised by Hiroshima and Ehime Prefectural governments, the event attracts around 7000 participants from all over Japan in a lottery for entry. Foreign visitor numbers were distinctly down this year after cancellation in 2020 and the fact Japan's borders had only opened 2 weeks prior to the event.
For some in the group, it was their first event ride ever! There were nerves but exhilaration as they chatted to the local riders at the start queue, took thousands of selfies with anyone who asked and laughed along with locals when those moments of 'I don't understand but we both ride bikes' happened! We were greeted with warmth and welcoming from so many, and our tour jerseys stating 'Hisashiburi Shimanami (Long time no see Shimanami) were a big hit with the locals who I could hear commenting in Japanese at how 'kakkoi' (cool) we looked. The event consists of about 8 different routes, and we chose the 70km Imabari to Onomichi route…yes, we were headed back to our base at U2 Cycle Hotel in one long ride.
As we crossed the finish line amidst what seemed like a crowd roaring and hundreds of cameras (yes, we were a press favourite!), there were a few tears shed. We had made it…for many, it was more than just a few days cycling across islands: first event ride, first mountain climbed, longest ride ever, first holiday without a partner, first holiday without kids, first time to Japan, first cycling tour. Yep, we ticked a lot of boxes and for that I feel immensely privileged that we could provide what some described as a 'memory etched forever' and share in those 'firsts'!
As I look back on those days of laughter and smiles, but also the warmth of my fellow women journey makers and pondered what makes this different to just any 'off-the-shelf' tour. It's the fact that at Wheel Women we make it possible for women to believe they can do something they never thought they could do. They come without the fear and nerves of expectations that other tours set and they find their own 'mountain' along the way, be it physical or emotional, and we make sure they conquer it. They reach that turning point.
I hope you enjoyed reading about Tina's Wheel Women Japanese Cycling tour. Share your thoughts via comments or the Women Who Cycle Facebook page.