Tina's wonderful adventures on the Wheel Women Japanese Cycling tour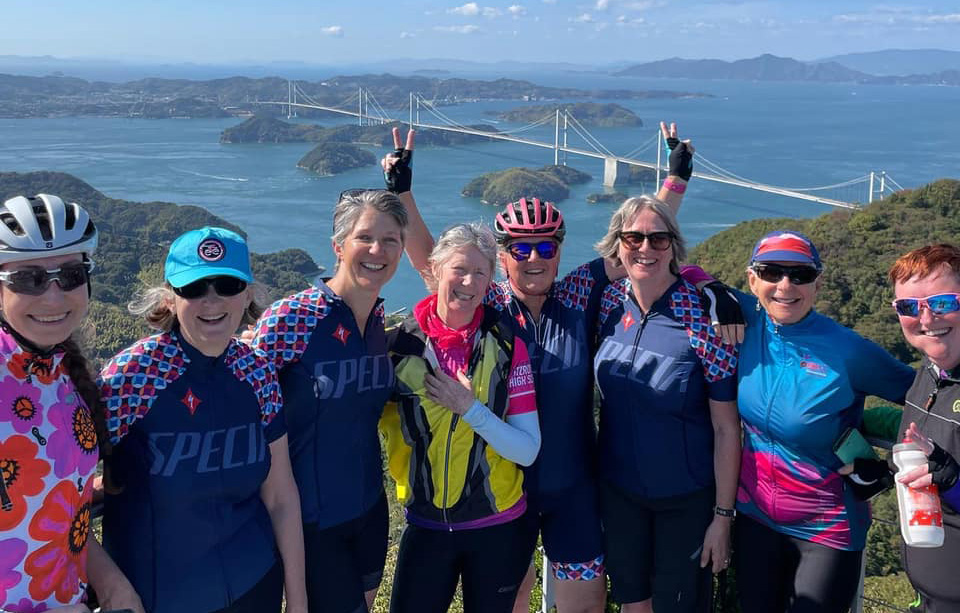 In 2018 I was lucky enough to attend the Wheel Women Japanese Cycling tour led by my wonderful friend Tina McCarthy. Tina is a self-confessed Japan-o-file as well as a fantastic cycling coach who runs her women's cycle coaching business Wheel Women based in Melbourne, Australia.
She recently asked me for advice about where she might have an article about her Japanese adventures, and I immediately on the Women Who Cycle blog of course. She's since also published it on several other websites and I've finally come good with my promise. It's longer than my typical post so I've broken it into Part 1 which is below, and Part 2 which I will post next week.
Over to you Tina.
There's always a turning point, I see it happen time and time again. To watch as they change from that nervous and unsure rider with little self-belief to the one who says 'Yep, I could do that… I WANT to do that!' It's that moment when you know their life has suddenly taken a different turn. It's that moment when they choose to make their holiday include cycling…it gives me tingles just thinking about it.
It felt almost like a dare when I said to my husband 'Maybe while we are in Japan we should ride that cycling route I heard about'. I half expected him to say 'Don't be ridiculous you could never do that'…but his answer was an emphatic yes! And that was my turning point — our first holiday overseas with bikes.
I'd been cycling for about four years but was a self-confessed 'Japan-ophile' since a design study tour in my university days. To combine the two passions came as a surprise to me — can you really do that? I simply never imagined way back in university I'd swap that design career for one helping women start out in cycling. But as the years of cycling rolled on, the possibilities for new adventures seemed to emerge when I least expected them.
My first visit to the Shimanami Kaido was in 2015. Buoyed by 'new rider' enthusiasm and a willingness to prove to my 'boys' I could do this, we took on the adventure. Filled with maps, local info, bike hire sorted and a place to stay we set off on our first family cycling holiday together.
Though that first trip with my small family is now a distant memory, it set the wheels in motion for me to develop our own Wheel Women Cycling Tour to Japan. We completed the first one in 2016 and with some covid years in between, have just completed our fourth tour of the region with 9 intrepid and willing Wheel Women.
Japan provided an opportunity to immerse in the land I fell in love with as a design student and hence share that passion. It seemed a perfect tour destination and ticked so many boxes for a women's cycling tour. I knew enough about the country to be capable of leading a tour from the information point of view. Add to this my training as a cycling coach as well as Japanese language skills, I ticked a few boxes myself!
The idea of cycling the Shimanami Kaido with our group started as a lofty idea. But the premise was really all about showing women that they 'can' do stuff. It's about creating an experience where women sometimes come from a low base in cycling, but by the end of the pre-tour training and then the tour itself, they have a transformative epiphany…bikes are their doorway to adventure.
What always surprises me is watching those riders who were so nervous about getting to the tour start location suddenly become gung-ho adventurers by the end…extending return flight dates so they could explore more on their own in cities never visited, renting bikes from Japanese and negotiating public transport. It was music to my ears to see the transformation take place over such a short space of time.
We centralised our location this year to the Shimanami Kaido area on the Setouchi Inland Sea. The famous route is located in both Hiroshima and Ehime Prefectures, with the border between the two located on the Tatara Ohashi (bridge). Start locations are at either Onomichi located in Hiroshima Prefecture and some 80km east of Hiroshima city, or Imabari in Ehime Prefecture. Imabari is a little more distant for some as it is located on the island of Shikoku, the smallest of Japan's main islands, while Onomichi is still on the mainland of Honshu. Regardless of which end you start, the route is spectacularly beautiful, and not too difficult but some challenges are available if you want. It's a cyclist's dream!
Riding with women is a different kettle of fish to what many cycling tour groups offer. We don't want to be smashing Strava segments, but at the same time we take our cycling seriously — we want great bikes, reasonable distances, and a few challenges. The criteria for joining the tour are that riders must have completed more than several 80km rides, be able to sit on at least 25kmphr and be confident to ride in traffic. You don't have to be great at hills!
The idea of hills seems to strike fear into many, and for me certainly, they are my nemesis…I'm just not a climber! But I recognise that many other women feel the same — they want immersion and experience, not Strava cups! With that always in my mind, I ensure that the daily routes contain plenty of picturesque seaside beauty, 'inaka', or deep country experiences with locals and a few challenging hills just so the participants have a sense of really accomplishing something by the end of the tour.
It's amazing to look back at the group and remember the day each rider turned up for their first ride at Wheel Women…clunky old rust buckets, flapping jackets, shoelaces askew, borrowed kids' helmets and so many nerves! To be there with them flying across bridges, whooshing down hills, and hearing screams of sheer joy was exhilarating for me…I'd watched their journeys. Across the 6 days of cycling, we completed around 350km with 2400mt of climbing, so in my books, that's a great accomplishment!
The mantra at Wheel Women is that cycling is for every woman, any size, any shape, any age, and any bike. Our purpose is to help women take those rusty old steeds in the shed and to get back on the bike — choose active over inactive. We teach new riders who have never had the chance to learn before. The Wheel Women Japan Tour seeks to challenge, but not defeat…it's about suddenly realising that bikes can be family adventures, bikes can be a ticket to confidence and bikes take you places that surprise and amaze.
Starting in Onomichi, the quiet seaside hamlet famed for its history of film-making, authors and ramen we stayed in the stylish U2 Cycle Hotel. Rated as one of the best cycling hotels in the world it was the perfect base to start from. Bikes were checked and set up correctly and a few test rides and further adjustments completed. We headed out the following day to Tomonoura with my old friend Atsuko, a local cyclist whose husband also runs one of the local bike shops…Atsuko also happens to be one of my Japanese teachers!
Along winding roads sitting neatly by the sea, the sparkling waters set the mood. There was a silence that came over everyone for at least the first 40 minutes before we stopped to take in some bridge views. Then the gasps started, followed by the laughter, and screams of delight, the sheer joy of experiencing riding with buddies in a foreign land. I could feel their sense of suddenly being overwhelmed by the reality of where they were…I'll admit, I felt the emotion too. To be able to share my passion for bikes and Japan and to see its impact was powerful.
But the exhilaration wasn't just ours. To see the day end with Atsuko leaping from her bike, then running back to high-five everyone before she departed for home just made me want to cry. This was the woman I had met at a lookout on the bike path in 2016. As bikes are prone to do, we struck up conversation that day…a chance meeting has led us to be the best of friends who catch up weekly via zoom! We ride together as much as we can whenever I visit, and Atsuko is a huge advocate for women's cycling.
The chance to ride with locals is always a big part of the tour. We aren't a 'tour group' really…we are just a bunch of friends from a cycling club exploring in unknown territory. Over the years I've had the good fortune to meet so many local cyclists who are always generous with their time, but above all respect what Wheel Women is all about. Their willingness to assist our women riders is filled with a generosity that seems boundless. Some take days off work to come and ride with us, others share their local route knowledge while most become ardent online friends with all our riders! It's brilliant to see the relationships grow across borders and language barriers. I call it building bridges with bikes!
I hope you enjoyed Part 1 of Tina's Wheel Women Japanese Cycling tour. Share your thoughts via comments or the Women Who Cycle Facebook page.