Women riding the Tour de France route for equality – a huge feat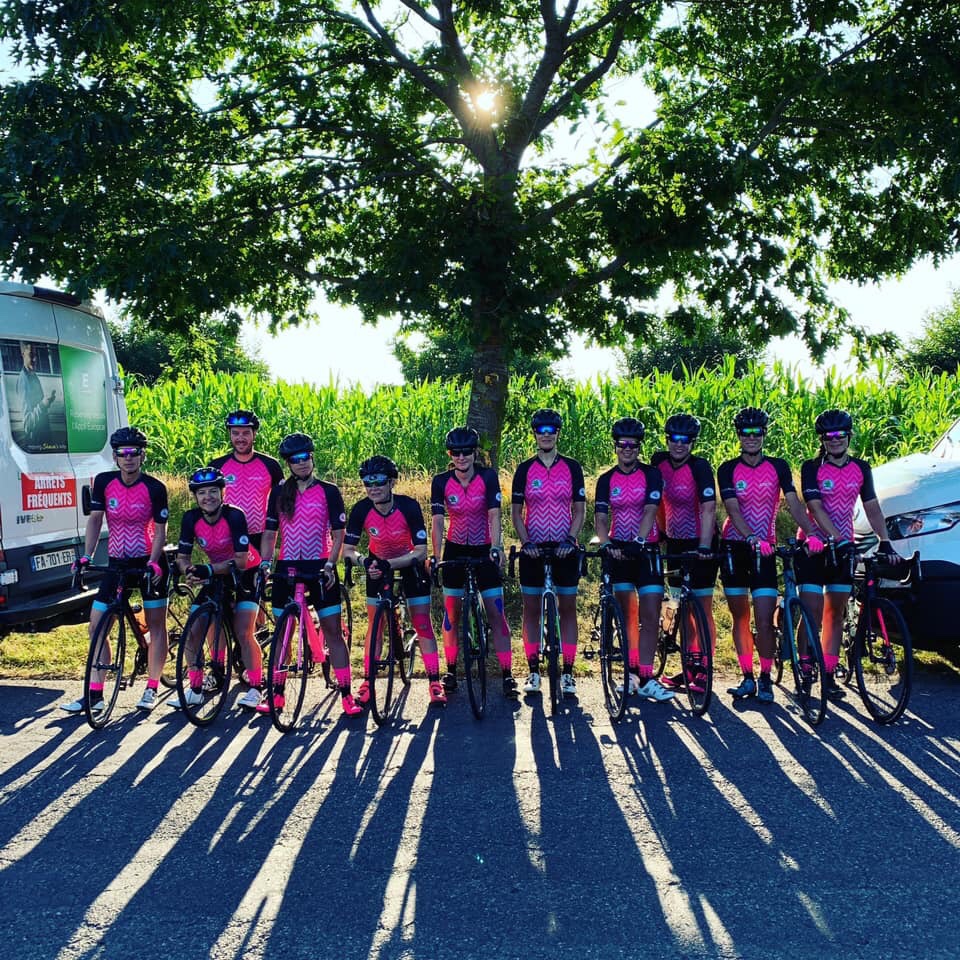 I'm totally in awe of a group of female cyclists who just finished the most amazing undertaking by riding the Tour de France route a day ahead of the men's professional race. There were two groups of these amazing women – the Donnons des Elles au Velo (a group of French women who I wrote about last year) who were tackling the route for the fifth time, and a new group call the InternationElles.
This InternationElles group of ten women and their French sisters undertook the ride to highlight the lack of equality in men's and women's cycling.
Riding each of the 21 stages the day before men, the InternationElles survived boiling heat, freezing cold and 30 mountain climbs across the Vosges, Pyrenees and the Alps, completing the 3,480 km route.
In fact, the men's race was cut short on the final two mountain stages due to freak weather so that women actually rode about 100 km further than the men's race. It could hardly have worked out any more perfectly for the women — five British, three Australian, one American and one Dutch — who fully demonstrated their ability to complete one of sport's most extreme challenges.
I avidly followed the women's progress throughout via social media, with particular interest in one of the riders who I know through my women's cycling network – Julie-Anne Hazlett. I was lucky enough to chat by phone with JA as she's known, a few days after she completed the ride.
"Most people assume that it's the riding that is the most challenging part of an event like the Tour de France, but for me it was more around lack of sleep and recovery time. After we finished every stage we had to get in a minivan and drive to our accommodation. Once settled in, we had to eat, do our own washing, and wind down. Our accommodation was mostly dormitory-style and lacked air-conditioning so getting a sound night's sleep could be challenging.
"One of the highlights for me was the amazing scenery. France is such a diverse country and every day I'd think it can't be topped and it would get better the next day. It would have been great to stop and take photos, but unfortunately even though we weren't travelling as fast as the men's professional peloton, we didn't stop much.
"The hardest day was Stage 6. The climbs were absolutely brutal. I remember thinking 'What am I doing here? Am I crazy?'. The thing that always brought me back to focusing on the job on hand was that we were riding for such an important cause – for equality in women's cycling. Other sports like cricket and AFL have progressed a long way with women's sport equality and cycling has a lot of catching up to do.
"I made plenty of sacrifices to complete this amazing ride, with training fitted around my demanding job but it was well worth the effort. I'd definitely do it again if I had the chance. I'll have to start saving now because it is a self-funded event from our perspective," said JA.
Hopefully the efforts of the InternationElles and their French counterparts on the road have not been in vain. The Amaury Sport Organisation (ASO), the owners of the Tour, are reportedly looking to launch a major women's race. Stay tuned.
Would you consider riding the Tour de France route for equality? Share you thoughts via comments or the Women Who Cycle Facebook page.