Anything is possible with the talented Sarah Gigante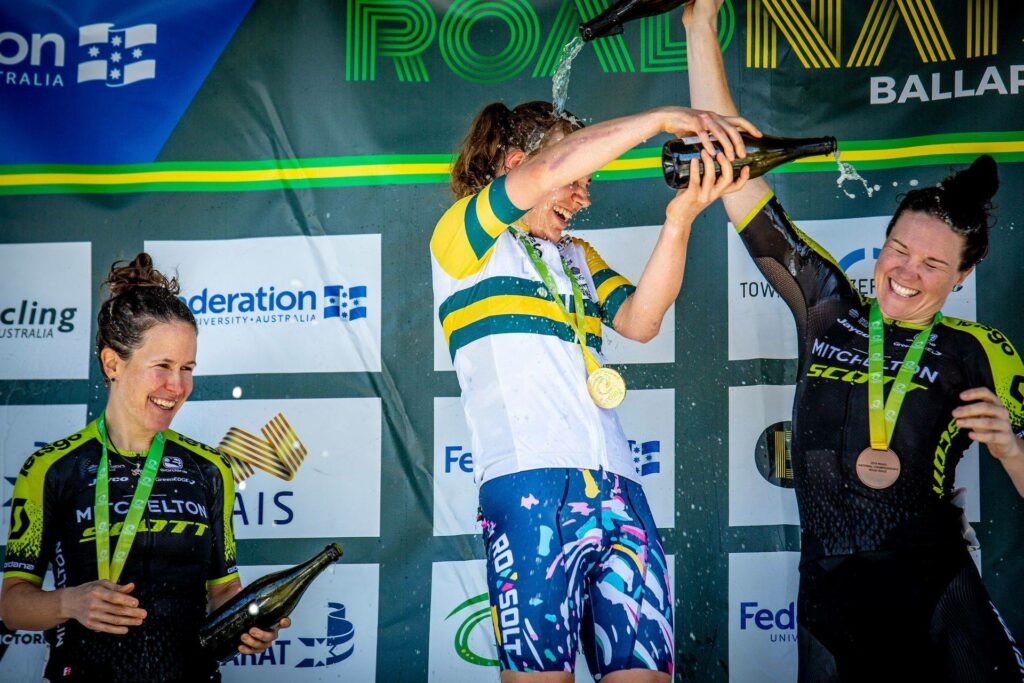 It's always an honour to interview Australia's best female cyclists and Sarah Gigante is no exception. She upset the field in the National Road Nationals at the beginning of 2019 to take her biggest victory and she's got a great future head of her, both on and off the bike.
Q: You started this year with a fantastic victory at the Road Nationals in your home state of Victoria, was that the highlight of your year?
A: Winning the Road Race Nationals in Buninyong in my first year racing against the elite women was definitely the highlight of 2019 for me. It was just so completely unexpected for me, and also came after quite a hard 2018 (which was dominated by a couple of bad crashes and the stress of my final year of high school.) It sounds cheesy to say, but that win in Buninyong made me realise that anything is possible if you work really hard and love what you do. I didn't come off that post-Nats high for quite a long time, and even now, almost 11 months later, I still can't help but grin and even get goosebumps if someone shows me a replay of the finish. Because of that win, I also had the honour of wearing the green and gold jersey all year long, which has been absolutely incredible and a real honour.
Q: You've raced on the road in Australia for the rest of 2019, does it feel like too much too soon?
A: Although my step up to elite racing certainly started with a bang, I've had some truly wonderful support around me and a great team, which has allowed me to keep having fun on the bike and racing and learning with not too much pressure. I think this is really important, because I hopefully have many many years of bikes ahead of me, and I want cycling to always be as fun as it is now, and as it was when I started racing ten years ago. There will always be hard times and of course they make us stronger, but on the whole, it is important that you enjoy yourself on the bike – both in racing and in training.
On the other hand, I've definitely stepped up my cycling this year and had some incredible experiences that I don't think I'll ever forget. I travelled across the USA for 8 weeks with my team Roxsolt Attaquer, taking part in my first American UCI races and also a whole lot of fast-paced criteriums. I then had a quick trip back to Australia (mainly to sit my university exams!) before heading off to Belgium for 4 weeks of very hard kermesse racing. The latter was thanks to the Amy Gillett Foundation, of which I am extremely grateful and honoured to be the 2019 Scholarship Recipient. I think these experiences have helped me grow as a person – I met so many new and wonderful people, I'd say I'm more adaptable now…and my cooking skills have (slightly!) improved!
Q: I believe you finished school last year with a very high score, what are you planning to do next?
A: Yeah, that's right – not very long before the enormous surprise of winning Road Nationals, I had my first massive shock when I found out I received a perfect ATAR of 99.95! Those couple of weeks in late December and early January were just crazy! I've always tried to do my best in everything I do, so I think my work ethic on the bike complemented my school work ethic and vice versa. It was very nice to see the hard work pay off after a crazy year trying to juggle broken arms, international competitions and lots of SACs and exams!
The score meant I was offered the Melbourne Chancellor's Scholarship, which I took up with a Science Degree and Diploma of Language (in Spanish.) I have just finished my first year of university now – I finished my exams yesterday! – and I'm still not sure what I will major in, but I am thinking something to do with maths, computer science and/or linguistics!
Q: You had a very serious crash in 2018, breaking your left shoulder and right wrist. How did you regain your confidence on the bike?
A: It was hard to come back from such a bad crash. I shattered my left elbow badly enough that the impact broke my shoulder, and then I also broke my right wrist like you said. I needed two trips to surgery at two different hospitals for my elbow and lots of time off the road and in the physio's office instead. The crash was also only about three and four months before the Junior Track and Road World Championships in Switzerland and Austria, so I was upset at the prospect of potentially missing the events I had been dreaming of competing at.
My surgeon and I weren't sure whether I would be able to recover in time, but he was fabulous and said there was a chance, so I trained as hard as I could on the ergo with the attitude that I was going to Worlds. I found it quite difficult at the time – I had to rely on a harness hooking me to a tree to hold me upright, and I did almost eighty ergos on Zwift in a row – but looking back at it now, I think this continued motivation helped me get through the recovery period mentally.
I had a dream and something to aspire towards, so I was happy to keep chipping away at my training and rehab, even if my preparations for Worlds were a little bit different to what I had imagined!
Then when I finally got back on the road, it was not all completely smooth sailing. I had a couple more crashes in my first few rides back (including dislocating my 'good' shoulder!) and was still struggling with pain and weakness in my elbow, so I was quite nervous about crashing very badly again and having to go through the whole painful experience all over again. I think what helped was just being patient with myself and doing the rides I loved – I rode with trusted friends in bunches as much as I could and this helped me feel more and more confident. I also had to remember that I had been on thousands of rides in my life and 99.99% of them had turned out super well!
Q: A young friend of mine Keira Will won the Under 15 Girls Champion of Champion in both track and road in 2019, what advice have you got for her in balancing her cycling ambitions, school work and life in general?
A: I watched Keira win her national road race title on the live stream actually – very impressive riding! I think I would say to all junior cyclists (and this can work for cyclists in general!) that fun should be the number one priority. We all have different goals – maybe you ride to be healthy, to be social, to get outdoors or to win – but as long as it is fun and you love getting out the door every day, then I think those other benefits will come naturally. I see a lot of juniors with coaches these days, and it is great to have mentors and make sure you have good balance and recovery, but then again, I think just riding with mates and racing as much as you want is a great way to spend juniors. I have started getting coached, by Dylan Lindsey, this year, which has been great to build on my weaknesses and manage my fatigue as I have started training more hours. However, I still go on lots of bunch rides to keep it fun, and I won both under 19 nationals and elite nationals this year without a coach, so I think being young and free is the way to go for younger juniors!
This also works well with school, because if you're having a lot of fun in your training then it's a mental break from schoolwork, and your schoolwork is a physical break from training! Another tip I'd have with balancing sport and study would be to break up your work into smaller chunks and remember that even getting a small amount done helps. You might not have such big stretches of free time as your school friends, but there is enough time to get everything done if you want there to be – for example, if you train after school, you could do a little bit of study before school, some at lunchtime if you need to, a few questions before training and some study after training. I have also been known to take my books along to track sessions and study in between efforts during exam time!
It is also important to have some time to completely switch off though – make sure you sleep enough, dedicate some time to a non-cycling hobby and hang out with your school friends when you can!
Q: How do you think we can all encourage more women to take up road cycling? And other types of cycling as well?
A: I consider myself lucky in that I started cycling at such a young age, but I do know from friends who started later just how intimidating the male-dominated cycling world can appear to novices, and particularly females. There are so many new women's groups, races and initiatives forming though, and every single person involved in these just wants new riders to feel welcome. The friends I've met through cycling have been some of the nicest people I've ever met, and once people start the sport, they all seem to love it! Whether it's by telling your non-cycling friend where she can start, being supportive to those who are there already, turning up to women's racing or just by being a good role model and nice person, I think we all have a part to play to make the environment more welcoming and inclusive. I think we are on the right track though, and I'm certainly in awe of the difference that local groups like SheRace can make and what this can do to give others the confidence to get out on their bikes!
Did you enjoy the interview with Sarah Gigante? Who else would you like to hear from? Let us know via comments or the Women Who Cycle Facebook page.