Secret Women's Business for female cyclists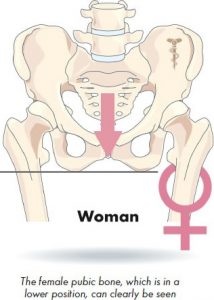 I first wrote about this topic back in 2012 and since then secret women's business for female cyclists has been one of my most visited posts. So I figure it's something that troubles a lot of female riders.
I do admit that when I first started riding a road bike nearly nine years ago that I did have problems getting comfortable on my saddle. Most of my non-riding friends assumed that it would be my backside that hurt after a long ride, but I actually found that my more delicate female anatomical parts were the problem.
In her book Every Woman's Guide to Cycling: Everything you need to know, Selene Yeager explains that the tender tissue of the vagina (let's call a spade a spade here) is sitting precariously close to our outsides so can suffer easily from tenderness and once aggravated it will "pipe up pretty loudly". She recommends high quality, women-specific bike knicks that have a moulded one piece chamois and you don't wear undies underneath them. She also suggests a women's specific saddle which is wider to support a women's pelvis and usually has cut-outs to relieve pressure where it counts.
Selene also says that bladder infections can increase with long distance riding because anything that irritates the urethra increases the risk of bacteria sneaking into the bladder. She suggests that the right knicks and saddle combination should eliminate the problem as well as drinking of plenty of fluids and peeing when you need to.
Gale Bernhardt has also written a book for women and in a detailed article explains how to prevent 'saddle sores' and 'vaginitis'. I'll let you read the detail of this if you're interested in the gory details. But a few things she suggests are worth a try if you're suffering from any type of girlie pain including:
Be sure your bike is set up correctly. If your saddle is too high or low it can cause pressure in that area
To help prevent chaffing use a good chamois cream. I've never used one but I know many cyclists who do
Good hygiene is essential. Take off your knicks when you get home and don't wear them again until they've been washed, and also wash your crotch area and let it dry properly.
Another thing you can try is to shave or wax your pubic hair either completely or partially to remove friction. But be mindful of ingrown hairs. They can become infected and need to be surgically removed.
The final word of secret women cyclists' business goes to Dutch pro cyclist Marijn de Vries who describes in detail how female pro cyclists pee when they are racing. It's not something that I'm planning to try because I usually have more time available when I'm riding, but it's certainly enlightening. It even includes some very interesting diagrams.
In my own personal experience the thing I've found that makes the most difference is finding the right saddle. Read my previous blog post here to learn more about finding the right one for you.
What advice can you add to the topic of secret women's business for female cyclists? As always use comments or the Women Who Cycle Facebook page to join the conversation.