Road bike disc brakes are here, and all women are going to want them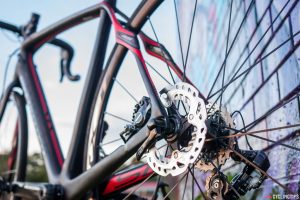 Cycling Australia made an interesting announcement last week, allowing the use of road bike disc brakes for most road bike racing within Australia, effective immediately. It was interesting because the international body, the UCI is still dragging the chain on the same issue, despite some of the big name riders like Marcel Kittel in the recent Tour de France winning several stages on a disc brake-equipped bike. Apparently disc brakes have been allowed in the US club scene since 2015. So I suspect that from January 2018 the UCI will allow them too, but we'll have to wait and see.
So it's time for you to consider disc brakes on your next road bike. I own three road bikes and one of those has disc brakes. The disc brakes have a really firm feeling about them. By way of comparison my two year old carbon road bike has Dura Ace brakes, and the Dura Ace ones are significantly better than their cheaper counterparts. But the disc brakes feel just that bit more responsive, and solid.
The benefits you can expect from disc brakes include more power, better modulation and all-weather ability.
Disc brakes, and especially hydraulic disc brakes, do provide substantially more stopping power than rim brakes. Modulation refers to the 'feel' coming through the brake system as a rider applies and releases pressure on the levers. Disc brakes do offer better modulation than rim brakes.
And while this advice applies to men and women equally, in my experience female riders are a little more risk averse than their male counterparts, particularly on long descents, so I think disc brakes on road bikes are going to suit a lot of female road riders.
Road bike disc brakes require a lot less effort, as they are far more reactive to your touch which means you'll be rolling down the steepest of descents as you lightly touch the brakes. That means you'll feel less fatigued and have more confidence in the stopping power of the brakes. You'll enjoy long descents a lot more than previously.
One of the biggest benefits for everyday riders is the all-weather ability that disc brakes provide. Rims and calipers are a hugely compromised system in the wet, while disc brakes offer very constant performance in all conditions.
A number of bike manufacturers have been quietly working behind the scenes developing new models to be ready for the UCI changes. I suspect that the bike manufacturers are actually a little (maybe a lot) frustrated by the UCI's slow response and the flood gates will open soon.
Specialized seems to be ahead of the pack with women specific road bikes fitted with disc brakes. In Australia most of the models in the Ruby range (endurance road bikes) are fitted with disc brakes. I couldn't find too many other women's road bikes except Giant, which has them fitted to its Avail range. But of course there are heaps of other options for bikes that suit both genders.
In fact Specialized seems to be moving away from its women's specific geometry, with the recent launch of several models that have the same frame as the men's bikes. The new women's Tarmac and Diverge have the same frame but women's specific touch points like saddles and handlebars. But that's another topic for a future discussion.
Unfortunately retro-fitting disc brakes to road bikes is not possible in most cases, so if you're keen to make the leap, then it's going to be new bike time. And I'd also give mechanical disc brakes a miss (these use cables to operate the brakes) and go for hydraulic disc brakes because they are vastly superior.
I'd love to hear from female road riders about their experience with road bike disc brakes. Comments here and on the Women Who Cycle Facebook page are most welcome.