She Rides programs inspiring the joys of cycling for women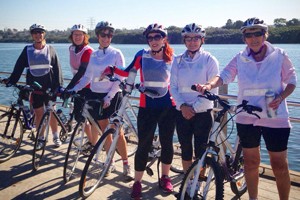 I really enjoy writing about the awesome professional female cyclists on a regular basis, but I equally like to focus on the other end of the spectrum. So this week I'd like to give some kudos to Cycling Australia's She Rides program. She Rides is a grassroots program aimed at female cyclists who are new to cycling. It could be that they are returning to riding a bike after many years, or in some cases they've previously missed out altogether. I don't know if I would have had the confidence to try road biking six years ago if I hadn't ridden a bike as a child, so I really commend any woman who takes up cycling as an adult.
Here's an abridged version of the report I found on the Cycling Australia website last week profiling the She Rides program…..
Cycling Australia's women's riding initiative She Rides is celebrating a successful first year of delivery with 90% of 2014 program participants reporting a significant increase in riding knowledge, skills and confidence.
Developed in 2014, She Rides aims to provide women with the opportunity to ride regularly, to ride safely through skills and knowledge, and with motivation by connecting like-minded women to develop regular riding behaviours.
The eight-week road/traffic or mountain bike program focuses on the progressive development of riding skills and building confidence to ride on shared paths/low traffic roads or mountain bike tracks/trails in groups.
Commencing with seven pilot programs in NSW and Queensland, She Rides has expanded to 83 programs in 2015 with the three-tiered programs now available in 35 locations around the country.
In a great outcome following the first twelve months of the program, 90% of 2014 program participants have reported their bike confidence has increased and they are now highly likely to ride on a shared pathway, in a bike lane or on a low traffic/quiet road.
The program also achieved significant shifts in participants' riding knowledge, skills and confidence including, but not limited to;
Knowledge. On average, 83% of 2014 She Rides participants are more knowledgeable on the road rules for bike riders and how to ride safety on pathways and low traffic roads post She Rides – a 60% shift prior to participating in a She Rides program; and
Skills and Confidence. On average, 93% of 2014 She Rides participants rate their basic bike riding skills and traffic riding skills as very good or excellent post She Rides – a 77% shift prior to participating in a She Rides program.
The program has had a significant personal impact on the personal lives of hundreds of women, many of who continue to ride since participating.
"I must admit my life has changed since doing the program," said Autumn 2014 participant Dee Apps, who continues to ride regularly since attending a program at Sydney Olympic Park. "After getting back on a bike after 50 odd years, and just a year since I started my She Rides program, I feel fitter than I have in years. Who would have thought at age 65 I would be wearing lycra!"
Cycling Australia Chief Executive Officer Nick Green OAM is pleased with the opportunities She Rides programs have provided for women and the significant growth seen in its first year.
"She Rides further strengthens our commitment to the development of women's cycling and I certainly look forward to seeing this program grow in the coming years, and seeing more women out on their bike enjoying riding right across the country," Green said.
She Rides programs will be held again during spring with Basics, Confidence and Together options available.
For more information, visit the She Rides website pages.