Taking baby steps to start mountain biking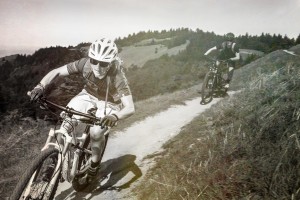 If you're a regular reader of this blog you'll know that I'm a dedicated road bike rider and have almost zero experience on a mountain bike. So I was pretty nervous when I was invited to test a few mountain bikes at the recent Specialized 2015 dealer launch.
I was very fortunate that I had some awesome mountain bikes to trial. The main one I rode was the brand new S-Works Era, a women's dual suspension 29er which is an amazing bike but I definitely felt I didn't do it justice. I was lucky enough to ride with an experienced mountain biker, Kate who owns the Specialized store in Batemans Bay. Kate was as great tutor and taught me to take baby steps rather than leap right in.
So I thought it would be useful if I shared a few things I learnt from her. I've also borrowed a few ideas from US mountain bike enthusiast Selene Yeager who has some great tips in her book Every Woman's Guide to Cycling.
Get the feeling for off-road riding on a local fire trail or something non-technical. When you become more comfortable you can try some rougher terrain like rocky or wooded single-track (a walking trail that is often strewn with rocks, roots and water crossings).
Go riding with someone more experienced that you. I found that following Kate through rocky and uneven sections much easier that doing it alone. I figured that if she could make it over certain obstacles then I could too. This worked every time!
Trust the bike to do what it's built to do. I was riding a high end dual suspension bike that is made to go over major obstacles and I had to trust that it would get me where I wanted to go. I will admit that I got off a few times when the obstacles seemed too great for such a novice, but the times that I did just 'trust the bike' it never let me down.
You need to look where you want to go. If you fix your gaze on a large rock or tree your bike will head straight for it. You need to be able to keep an eye out for obstacles on the path but also to look well ahead. Over time you will learn to pick the best line and ride smoothly around and through obstacles.
Keep your weight back when you are going down hill. One of the most common causes of MTB riders going over the handlebars is putting your weight too far forward. Some mountain bikes are fitted with seat posts that can be dropped out of the way which is particularly useful when descending, particularly on technical terrain.
Use the momentum of the bike and resist braking too heavily. You'll be far more stable over small rocks and roots if you're carrying a little speed. If you crawl along (tempting when you're a newbie) you'll get bumped off course by every little obstacle.
Relax your elbows and knees and make sure they are slightly bent at all times so the bike has room to move beneath you. Riding along a rocky path for the first time is likely to make you tense up (I did) but you need to make a conscious effort to avoid this.
When you're going up hill over rough terrain choose an easy gear and increase your cadence. Kate described this as 'power pedal' and it worked really well for me. It also distracted me from worrying about falling off the bike.
There are heaps more advanced mountain biking tips but these should get you started. Mountain biking is very different from riding on the road but can be equally as fun. And you don't need the very latest S-Works carbon dual suspension bike for your first ride, although it does help!
PS. Selene Yeager recently completed the famous Leadville 100 mountain bike race on the S-Works Era and wrote a great blog post about it.