Nettie Edmondson hungry for prizes at the re-scheduled Tokyo 2020 Olympic Games
Last year, long before we'd heard of the COVID-19 pandemic, I had the pleasure of interviewing three female cyclists who had been chosen in the Tokyo 2020 Olympic Games cycling team. Sadly the article I wrote for a magazine on the subject had to be spiked when the Games were cancelled.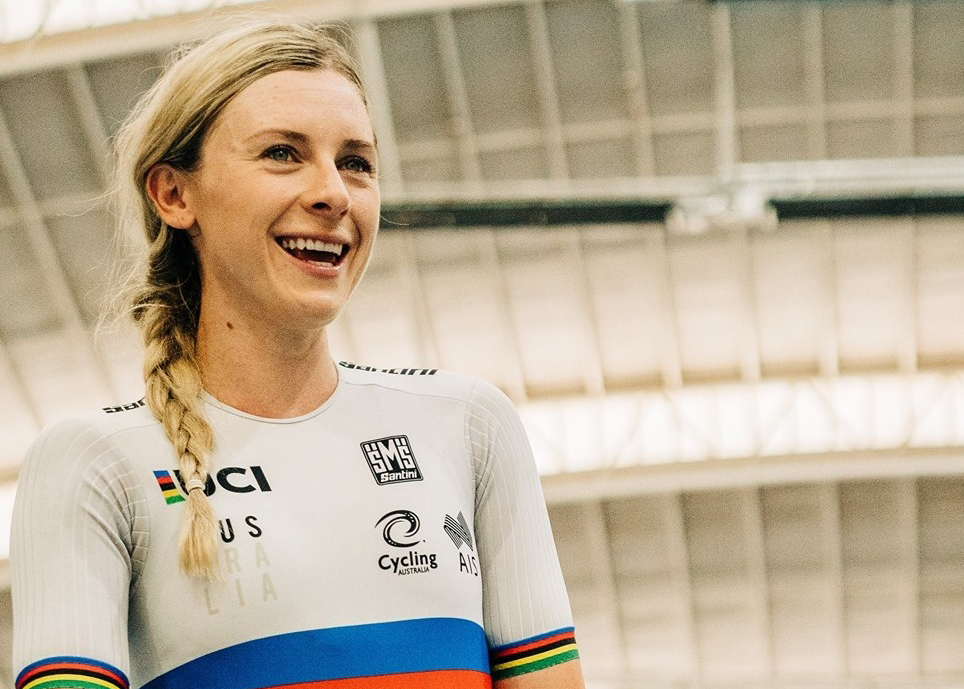 Now that it looks like the Tokyo 2020 Olympic Games are going ahead I thought I'd resurrect the article because much of it is still relevant. The three riders are Amanda Spratt, Kaarle McCulloch and Nettie Edmondson and I'll publish them separately over the next few weeks. This week I'm bringing you the story about endurance track cyclist Annette Edmondson, known as Nettie.
Bear in mind that I wrote this before we even knew about COVID.
For context here is Nettie's social post about the cancellation from last year: "….and just like that, there will be no 2020 Olympic Games for me nor the rest of Australia. The Australian Government has banned international travel prompting the Australian Olympic Team to withdraw from competing at the Olympic Games if it is to be held in 2020. If the International Olympic Committee defers the Games till 2021, we will get the opportunity to compete. The decision will be made in the next 4 weeks (however I feel this will come sooner). This has certainly thrown a spanner in the works, but I stand by the Australian Olympic Team and their decision. A Games cannot be held in 4 months' time. We are fortunate to still be able to train, but other sports and other countries are far less fortunate. The Olympics is supposed to be fair and equal for all. At the end of the day, this is just sport. COVID-19 won't wait. Lives are at risk and this crisis needs to be dealt with. We will continue to chip away at what we can until further decisions are made, but for now, listen to those in charge, make good decisions, and think of those less fortunate and more vulnerable than you. We will get through this.. but we need to do it together.
".
And here is my original story……….
South Australia's Nettie Edmondson is an endurance track cyclist and has also raced on the road, but has chosen to concentrate only on the track for the few years leading up to Tokyo.
"In the past, I've balanced both, and while that's nice for the mental break and different challenge, when you get close to the Games you need to commit to one specific discipline. My heart has always been with the track, it's where I started and I think it's where I'm suited for. It's also where my results have come from in the past.
"There are more unpredictable elements on the road. The track Team pursuit is the main focus for us. It is the most predictable, just the team against the clock," she added.
Nettie lives and trains in Adelaide and spends Monday to Friday on the track and in the gym and chooses road riding on the weekend. "I grew up in Adelaide so I'm lucky to have my family and friends nearby. For me, it's not a matter of what I've given up, it's a decision and it can have both positives and negatives, and the positives definitely outweigh the negatives," Nettie said.
Late last year (2019) Nettie broke her collarbone in a World Cup race in Brisbane which derailed her Olympic Games training schedule.
"It was not ideal but could have been much worse. The collarbone is the bone to break in cycling, and while it's not nice to break a bone, I was back on the bike within the week and didn't miss out on much training. It was good timing because I was at the end of a huge block which was just enough time to get ready for the Worlds," she said.
Nettie and her teammates are encouraged by their coaches to find a balance in their lives and build in downtime. "I moved to be near the velodrome from my parent's house in the hills which gives me more time to chill out because track cycling is such an intense sport. With the mental and physical effort, I need that downtime. It's tempting to fill it up but I know I need to block it out and make complete recovery time. It's almost as important as the training."
The Games in Tokyo will be Nettie's third, and as one of the senior members of the squad, she'll play a mentoring role to some of the younger riders. She already has an Olympic bronze medal that she won at the London Olympic Games in 2012 in the Omnium, and she'll be hoping to win Gold in Tokyo.
Good luck Nettie for 2nd to 8th August 2021. We'll all be cheering you on from afar. Follow Nettie via Instagram where she posts regularly.
What are you looking forward to seeing at the re-scheduled Tokyo 2020 Olympic Games? Share via comments or the Women Who Cycle Facebook page.