Two cycling book reviews: Two amazing women on life-changing bike-packing adventures
I don't often write cycling book reviews, that's partly because I'm mostly a fiction reader, and partly because it's quite time-consuming. You need to read the book or books first, and then provide a respectful opinion on something another person has poured their heart and soul into. But when two bike-packing adventuring women contacted me and asked if I'd review their books I felt compelled.
So you've got the reference upfront here are the details of the two books in question:
I confess that it's taken me nearly a year to get around to this monumental task, and I also confess that I haven't read the whole of either of them. Instead, I spent an hour or two ducking into each of them to get a feel for the two books.
The books are quite similar, so it made sense to include them in the same blog post. Both are written by Australian women who in their 50s undertook a serious bike-packing adventure in foreign lands. Both had experienced the premature deaths of people close to them, pushing them to confront their own eventual mortality, and the notion that 'life is short'.
Both books are also more travel memoir than cycling-focused book. Both use a bicycle as their mode of transport, but their adventures are more about the personal encounters, the mental and physical challenges, and the sheer will to succeed.
In short, I think they are both great and if you're looking for inspiration to get way out of your comfort zone, I'd commend either or both of them to you.
Compared to the amazing challenges and adventures both of these women experienced, my own stresses seem relatively minor. Kudos to you, Nancy and Leonie.
Bagpipes and Ferries: Western Scotland and the Isles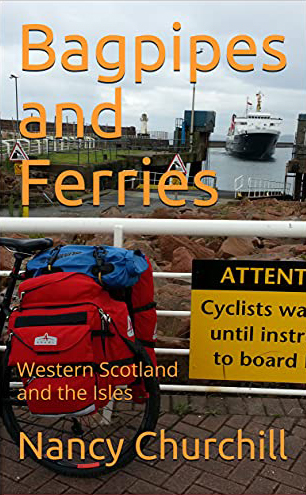 When I first read the title of this book, I was a bit put off. I don't know if it's because I don't like bagpipes or because it sounded 'daggy' to me, but it certainly didn't sound enticing and on reading through it, I think the title doesn't reflect the contents. In fact, while I didn't read every word, I did not find any references to bagpipes, although ferries were often mentioned.
Australian author Nancy Churchill chooses Scotland for her adventure because she'd visited there some 35 years earlier and undertaken a three-week bike-packing trip and dreamed of returning. Unlike me, she has no Scottish heritage and no distant relatives to visit. From my own travels, Scotland is a picturesque country but it's hilly, the weather can be fierce, and the people are friendly, if at times hard to understand with their thick Scottish brogue.
Nancy's experiences of Western Scotland are not dissimilar, but she takes on all the elements by travelling alone on her touring bicycle carrying all her own gear.
Her descriptions of the trip are engaging and entertaining. As you would expect, she confronted plenty of poor weather, loads of hills she had to walk up, and many, many friendly locals.
The first couple of chapters are devoted to her 'test' trip that she took in England before heading to Scotland. She recounts some interesting tales with her travelling companion Jane who agreed to give bike-packing a go. The rest of the book recounts Nancy's solo travels in Scotland.
She includes some history and geography lessons along the way, but not too much to bog down the story-telling.
One thing I felt it lacked was some photographs of Nancy's adventures. I read the e-book version and perhaps the printed version does include photos. The cover image is a little uninspiring, just the back wheel of Nancy's bike with a ferry in the background. But it's hard not to admire the sheer guts of the adventure that Nancy undertook.
As another reviewer said of the book, "From scenic views, historical sights, and gourmet delights to the physical challenges of biking solo through unfamiliar terrain, you will chuckle at the author's take on life as she pushes uphill and zooms down the other side. Well written with various themes traversing the chapters. A thoroughly enjoyable book for an armchair traveller." Well said.
When we're not afraid: My 12,000 km bike-packing ride through South America
I felt from the outset that I was going to 'get inside' Leonie's head. The title and cover art are both compelling and reflective of the contents.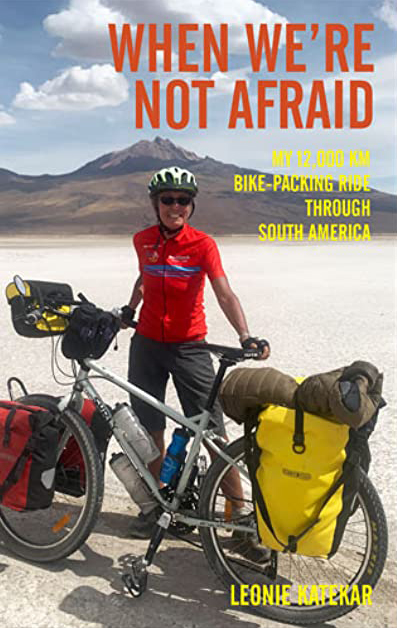 She expresses her intention well in her introduction: "This book is the story of my adventure and what it did for me. I had been afraid to step away from my past and from the security of what I have always known, to leap into an unknown future. Then the possibility of the bike ride came into my life. It would be almost impossible for me to do this ride but there was nothing else to hold onto. This became a fear I had to deal with. It meant letting go of my previous understanding of myself, and exploring who I am and what I can do and be in the future."
At the age of 55, Leonie made the gutsy decision to embark on a 12,000 km solo bike-packing expedition through Central and South America. She learnt some rudimentary Spanish, gathered up her bike that she calls Gitana (Spanish for Gypsy named after her dog), packed her gear and flew to the other side of the Pacific Ocean.
Her journey started in Antigua, Guatemala and ended right at the bottom of the South American continent at Ushuaia and took seven months to complete, averaging about 80 km per day. A huge feat for anyone, considering the mountains, the altitude, the language differences, and so much more.
When We're Not Afraid recounts Leonie's journey through nine countries. She conquers the Andes mountain range at an altitude of more than 4,000 metres, explores and thrives in unique towns, cities, lakes and forests, deserts and ancient ruins, while pushing through extreme physical demands on her body and overcoming the weather and her own doubts.
In South America, I only ever visited one country, the tourist mecca of Peru and loved it. So I enjoyed reading about Leonie's many adventures in Peru, as well as many other countries.
For those who might want to emulate some of Leonie's journey, she includes a detailed itinerary at the back of the book which lists where she rode each day and where she stayed. I also enjoyed the photographs she shared.
Both women tell their stories in an honest and straightforward way. I'd recommend both of them if you want to see how to get out of your comfort zone and challenge yourself.
What other cycling books would you recommend? Share via comments or the Women Who Cycle Facebook page.