Great events happening for female road cyclists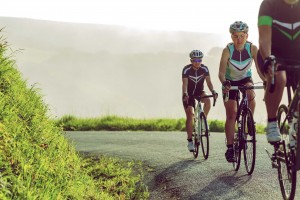 Last year Cycling Australia undertook some research where they spoke to about 2,500 female cyclists who were either members of Cycling Australia, and therefore a cycling club, or keen leisure road cyclists. In this research the women who responded identified the majority of their riding is completed alone, but there was a clear desire for riding with other women of similar ability levels.
I remember reading that at the time and feeling a little sad, and hoping that the sort of activities I get involved in like the Cycling NSW Women's Commission will help over time. I'm really pleased to say that there seems to be an increase in the number of activities for these keen female road cyclists like me. Here's a short list of events that I'm aware of, and it would be great if you're reading this if you share other events that you know about. My list are all Australian women's events but feel free to share international ones as well.
Strongher Road Trip Downunder
A couple of week's ago I wrote about a new women's initiative called Strongher. At the time I noticed that all their events/activities were focused on Europe but I'm pleased to see that they are already reaching my own country with a Road Trip Downunder in January. It's an eight day road trip for intermediate to advanced female riders travelling from the National Road Championships in Ballarat to the Tour Down Under in Adelaide.
The Ascent – Bicycle Network
Victorian-based Bicycle Network is describing the The Ascent as a bold and beautiful new initiative to get more women riding.
It includes free demo days, skills sessions, training rides and online resources and a fully-supported, women's-only challenge ride through Victoria's Yarra Ranges in April 2016.
"The Ascent is about the journey, it's not a sprint, it's a marathon. We want to empower women with the skills and confidence they need to smash their goals, while having fun along the way……
So if you believe that 50% of bike riders should be women, then you need to join us."
Camp de Femme – Female Cycle Camps
Cycle coach Donna Meehan runs yearly cycling camps for women and she's got one this weekend in the Bright region of Victoria. She's previously run camps in Bathurst and I was lucky enough to attend the first one a few years back.
The camps include fully supported group rides, skills sessions covered areas like climbing and descending, stretching sessions and the chance to meet like-minded female cyclists.
Cycling NSW Women's Commission
I'm currently a member of the Cycling NSW Women's Commission and we are working on an initiative for 2016 that will target keen female leisure road cyclists who want to challenge themselves. Stay tuned for more details soon.
Please, please share any other initiatives that are for female road cyclists. I'd love to hear about them.