I'm very disappointed with ASO's La Course by Le Tour De France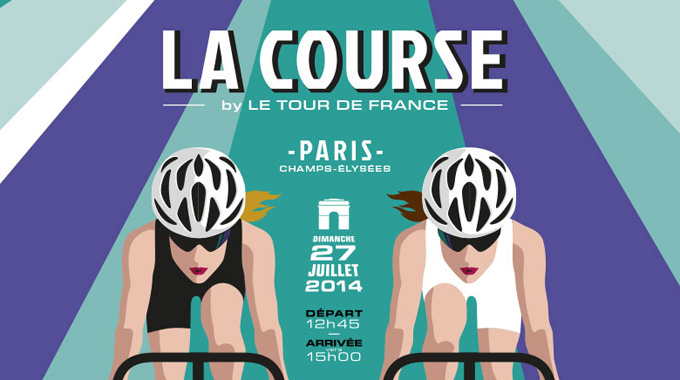 I'm very disappointed with the Tour de France organisers ASO for their lacklustre efforts with the women's race La Course by Le Tour de France. The race was established five years ago by ASO and was applauded by the women's pro peloton and cycling fans as a great step forward for women's cycling, but in those five years, they seem to have been going backwards with the race. I emphasise that I write this post as a cycling fan rather than an expert on women's pro cycling, but I'm assuming that the female pro riders as equally disappointed.
And while I'm not an expert on the Tour de France, I have viewed it up close on three occasions and watched multiple stages from the side of the road. It would have been fantastic to watch the women race on some of the days that the men whizzed by our motorhome. I really don't understand why ASO can't run a women's multi-stage race alongside the men's, rather than the tokenistic one day race they currently run. I don't think the women need a 21-stage race like the TdF, but it would be wonderful to see a seven-stage race that ran at the same time and took advantage of the infrastructure and crowds.
La Course by Le Tour de France (even the name is terrible) was established by ASO in 2014 as a circuit race on the Champs Elysées on the final day of the Tour de France. Those races were won by Marianne Vos, Anna van der Breggen and Chloe Hosking.
The race shifted to a two-day event in 2017, which saw a summit finish on the Col d'Izoard, held on the same day as Stage 18 of the men's race, followed by a handicapped time trial in Marseille, both won by Annemiek Van Vleuten. Last year's event returned to a one-day format, a mountainous road race linking Annecy and to Le Grand-Bornand, also won by Van Vleuten in a showdown against runner-up Van der Breggen.
This year (Friday, 19 July) the women will race along a circuit in the southern France town of Pau, the same course as the men's 27 km time trial on Stage 13, and they will complete five laps for a total of 120 km. The route will include a climb over the Côte d'Esquillot, making the circuit a challenge but one that could suit the one-day Classics specialists and possibly even the sprinters.
It's pretty telling that the website for La Course has almost no information about the 2019 race with most of the details actually about 2018. It is obviously a very low priority to ASO. The race is just three weeks away and yet both their social media channels and website have almost no information about it!
Interestingly in past years, I have read a number of articles and blog posts that criticise ASO for not stepping up, but this year, I've read very little about it. I suspect that most critics have given up voicing their dismay because it has fallen on deaf ears. So this year it's my turn.
While I'm talking about this subject I must give credit to a number of women's races that continue to grow with fantastic organisers and plenty of fans supporting them. These include the Women's Tour of California, Women's Tour Down Under and Women's Tour of Britain. Plus a new race is starting in August 2021 in Scandinavia called Battle of the North – a ten-day race in Norway, Sweden and Denmark which is great news for women's pro cycling.
As a women's cycling fan I've really enjoyed watching the Women's Tour Down Under from the side of the road, and the Women's Tour of Britain from my couch (thanks Eurosport for running one-hour highlights show each day). I will also enjoy watching La Course by Le Tour de France on television in three weeks time. I hope that in the future I will be able to watch more of it.
Please share your views of La Course by Le Tour de France via comments or the Women Who Cycle Facebook page.