A woman's guide: What to look for when you buy a road bike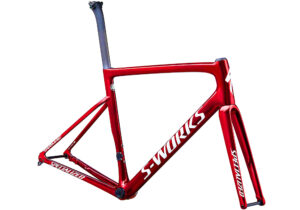 I'm a member of some great women-only cycling social media groups and one of the questions that comes up time and time again is – what to look for when you buy a road bike. So often the advice that is given by other female riders is based on their own experience which is fine but it is such an individual thing that you need to forge your own path.
The frame is the most important part
Before I worked in the bike industry, I was of the view that if you wanted to buy a road bike then your focus should be on the gearing of the bike, but I now know that the frame is the most important part of the bicycle. The frame provides strength and rigidity and largely determines the handling. The gearing which definitely matters plays a secondary role.
Just like many road bike buyers, when I bought my current carbon-framed bike I used the level of gearing on the bike as the key determinate. I first decided whether I wanted an aluminium or carbon frame and then I decided that I wanted Ultegra level gearing or better. Once that decision was made, I set about developing a shortlist of bikes that met these criteria.
Of course, the level of gearing gives you an idea of the quality of the bike but it's still the frame that matters. Bike manufacturers match their better frames with comparable gearing so higher levels of running gear indicates that the frame is better quality.
Let me illustrate this point by example. If I had around $2,000 to spend on a road bike I'd much prefer the Specialized Allez Elite over the Reid Vantage Endurance. Reid, for those who aren't acquainted, is a budget Australian bike retailer that sells heaps of those pretty steel-framed bikes with baskets, and a smattering of other bikes. Specialized spends heaps of money and time on research and development and makes great road bikes. It works closely with professional riders and all the features of their high-end bikes trickle down. So I'd place my trust in Specialized to build a great bike every time.
You can upgrade parts
Buying a bike with the right frame the first time can not only help you enjoy the benefits of a better riding and performing bike now but can also save significant money down the road as you will only need to buy some new parts, instead of buying a whole new bike, to upgrade. In the greater scheme of things, individual components are relatively easy to upgrade at the time of purchase or down the road. I've never heard of a race being won or lost because one rider had Dura-Ace or Red derailleurs and another did not; if higher average riding speed is the determining factor, a better frame or wheels will always trump the difference between component levels.
So I'm not suggesting you rush out and buy an expensive carbon frame and then fit it with Shimano Claris gearing. However, I am saying that if you did, you'd have a better bike than if you bought a cheap poorly engineered carbon frame and fitted it with Shimano Dura-Ace Di2.
The frame must be the right size
And ultimately it all comes down to fit. The frame needs to be the right size for you. This obviously applies to both men and women when buying a bike. You can do a few things to tweak a bike to fit but if it's too big or too small it will never be fun to ride.
Colour counts too
The final word must go to colour and appearance. I own three road bikes and I place high importance on the colour and design. I was considering buying a new bike last year and didn't go through with it because the colour just wasn't gorgeous. In case you're interested I've got my sights set on an S-Works Tarmac Disc and I'll just wait until they produce a frame that I love.
What's your opinion on what to look for when you buy a road bike? Share via comments or the Women Who Cycle Facebook page.