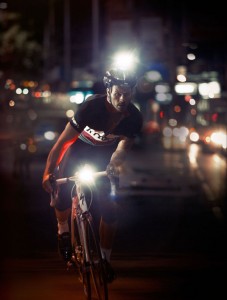 Like many road cyclists I ride early in the morning to avoid traffic and to get a 20 km plus ride in before I have to get to work. This means that at quite a few times during the year I leave home in the dark. One thing that constantly amazes me is that I see other cyclists riding around with inadequate or even no lights on their bikes. They are also often decked out in dark clothing on dark bikes. I'm not sure if they are trying to be really 'cool' or are just plain stupid.
Many cyclists do not realise that it's actually illegal to ride a bike at night without lights. In the state of NSW (and many other places) where I live if you ride at night you must have a steady or flashing white light that is clearly visible for at least 200 metres and a flashing or steady red light that is clearly visible for at least 200 metres from the rear of the bike. I also take night to mean 5 am when it's still quite dark at certain times of the year.
I use lights pretty much all the time when I'm riding alone. When it's dark I use the front light on a steady beam so I can see where I'm going, because even if you are on familiar roads and paths there can be obstacles like sticks, rubbish and rocks that can be a big hazard. When it gets lighter and I can see where I'm going I change my light to a flashing pattern so that other road users can see me. I always use my rear light on a flashing pattern and I nearly always have it on, except when I'm riding in a group and it's fully light.