Do I need a cycling coach?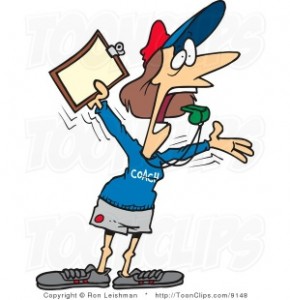 A question I've pondered a few times over the past few years since I took up cycling is whether I would benefit from some help from a coach. I remember discussing it with a few fellow cyclists a year or two ago and we concluded that it might spoil our fun. This is because other people we know who have been 'coached', always seem to be off doing serious training sessions, rather than enjoying the company of their mates on social rides followed by the mandatory cafe visit.
Well I'm pleased to say that I've changed my mind on that one and I now think I can have both. I chatted with Donna Meehan who is a cycling coach about it and she's enlightened me. So next time I have a big goal I'll be heading off to consult Donna.
The best way to describe coaching is to use a few real life examples and talk about how coaching has helped or could have helped. So let's start with Donna herself. She started riding to lose weight when she was in her mid-thirties and by 40th birthday she was well and truly hooked. She recalls her favourite presents were her SPD pedals and diamond earrings.
Soon after taking up cycling Donna found that she was very competitive but lacked any real bike skills. She undertook a few mass rides like the Gong ride and after taking that on she found a five day ride and quickly signed up.
Track cycling was her next challenge and she enjoyed the adrenalin rush of the boards. Without any coaching she took herself to state, national and world titles but now reflects if she was coached at the beginning her progression would have been a whole lot better. Like many of us she got lots of little bits of advice from many people.
Three years ago she hired her first track coach because she saw others who were improving because they had the input of a coach and she'd also reached a point where she wasn't improving anymore. As a result she went on to win two medals at the World Masters in Manchester earlier this year.
The next story I will share is my own. I've been riding for three and a half years and the only time I've had any coaching is when I attended a coaching clinic, run by Donna no less.
My other bike skills, such as they are, were learnt from others who I've ridden alongside. I recall one LACC group ride where no less than four people offered me small pieces of advice relating to cornering and pedalling and other basic skills. And, I'm still learning three and a half years later.
I definitely could have benefited from some one-on-one coaching to gain some bike skills in my first year and I could also have benefited when I've had a major goal like a long charity ride. In January this year I did a 160 km ride around the Barossa Valley. You can read my post about it if you're interested. On reflection I would definitely have found it easier if I had consulted a coach to help me put together an individual training program.
I'm actually feeling a little goal-less at the moment so when I get home from my holiday (I'm writing this post at 12,175 metres in an A380 on the way to Europe) I'm going to make a commitment to my next cycling challenge and talk to Donna about how I can benefit from coaching. But I'll definitely maintain my social rides in between some harder efforts.
The third scenario is another woman but this time a fictitious one. I asked Donna how a 30 year old woman who recently took up cycling as a sport could benefit from coaching. She said that when you're that age and just starting out in the sport you are playing catch up because many of the elite women you are racing against have been riding for much longer and are fitter and have superior skills. A 30 year old (man or woman) will not have many years at the elite level so needs to advance quickly.
Having a coach in this situation is really mandatory if you're serious about competing. The road races are long and hard and take endurance and speed to keep up.
So if you're interested in hiring a coach I suggest you ask around and find someone who suits your needs and what you're trying to achieve. There is no one size fits all so you might have to do a bit of research before you find the ideal person for you. Alternatively you can contact Donna who runs her own business called Domestique based in Sydney's inner west.
And you don't have to live near your coach. Donna's own coach is based in the UK and they caught up by phone and email on a regular basis.