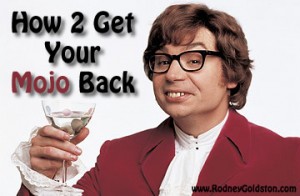 I love words and mojo is amongst my favourites. Apparently it is of African derivation meaning magic, but over time like many words its meaning has changed and it's now associated with self-confidence. My own interpretation of cycling mojo is when you lose interest, or fall out of love with the wonderful activity of cycling. My own interest has waned at times but I've always managed to get it back. Recently one of my favourite cycling buddies lost her cycling mojo and I'd like to help her get it back. Here's a few tips for any women (or men) out there who find themselves adrift.
Just do it
I sometimes wake up in the early morning and want to go back to sleep, but I force myself to get out of bed because I know that I will be happy when I'm on the bike and when I return from my ride. I have never been on a ride that I have regretted, so I focus on this thought when I'm tempted to turn my alarm clock off and roll over. Just push through that feeling and you'll be rewarded.
Organise to meet a buddy
If you commit to a friend to meet up for a ride then you are far more likely to get out of bed. My friends and I always leave each other with a 'thanks for the ride', because we are grateful for each other's company, and we might not have turned up if we weren't committed to each other. The night before a ride send out a few text messages and make a firm commitment to meet up. Then don't let your friends down.