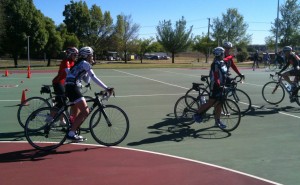 If you take up riding in your 30s or 40s as many of us do, one area you need to focus on if you want to advance, is to learn some bike skills. As children most of us rode a bike, but the majority of us were not formally taught, so we didn't have the chance to learn any bike skills and this particularly applies to women.
In my experience in meeting many female cyclists, women tend to approach cycling quite differently to men. Although many of us rode bikes as kids we usually did a few laps around the neighbourhood and didn't jump off gutters, perform wheel stands or other daredevil acts like our male counterparts.
The good news is that it's easy to improve your bike skills. Here's a few tips on how to improve your skills in areas like cornering, pedalling, safe braking, descending, climbing, riding in a bunch and more.