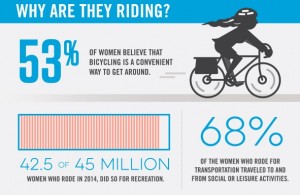 I'm always interested in research relating to women's cycling. It helps me and others understand what barriers women see to cycling. Is it the lack of safe places to ride? Is it the blokey bike shops? Is it that they have to wear a helmet even for a short trip? (in Australia where I live helmets are mandatory for any type of bike).
A US group called PeopleForBikes commissioned the US Bicycling Participation Study in late 2014. They measured all kinds of riding by all kinds of people, including women. Here are six important and interesting findings from the study:
1. The gap between men and women isn't so large
They surveyed more than 16,000 individuals and weighted that sample to represent the US population and found that 104 million people—a third of the population—rode a bicycle last year and of those, 45 million (43%) were women compared to 59 million men (57%). The findings revealed less of a gender gap than the 2009 National Household Travel Survey which (using a different methodology) found that just 24% of bicycle trips were made by women.