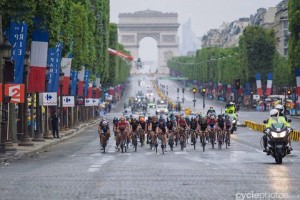 A lot of others wrote about La Course by Le Tour de France before the race took place on Sunday. Many wrote about its significance for women's cycling and I definitely agree with them. I had the pleasure of watching La Course on French TV in the middle of a warm and sunny Sunday afternoon in a bar appropriately named Cafe de Paris in the French Alps.
I was keen to watch it to see the women's pro peloton race in front of such a huge audience but also for the pure enjoyment of seeing them race. Unfortunately for the riders it rained throughout the race which meant there were quite a few crashes and plenty of abandonments. I found it exciting to watch and really admire the women who made it to the finish line. It was predicted to conclude in a bunch sprint but a dutch rider, Anna Van Der Breggen from the Rabo team broke away right near the end and survived to cross the line first.
La Course is in its second year and as a standalone event it's not really a big deal. Just one 89 km race around the city of Paris. The reason it's so important is what it represents. It's organised by the Tour de France to show their support of women's racing which to me is really symbolic.